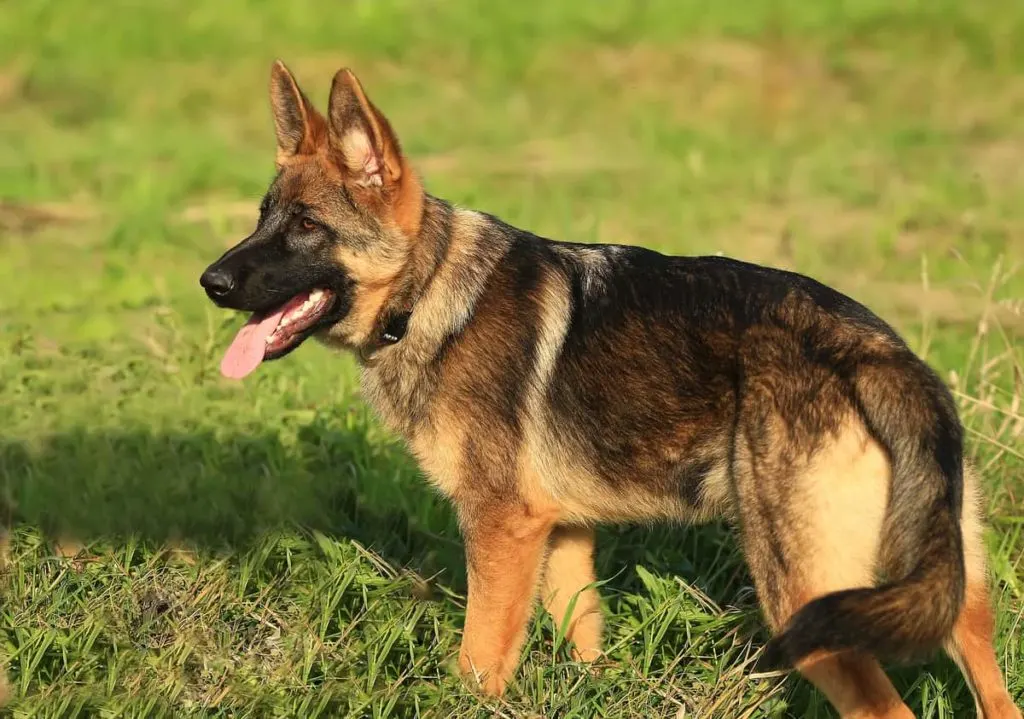 Getting a new German Shepherd puppy is exciting! But when it comes to shopping for them things can get rather confusing. The market is flooded with items claiming to be the best products for German Shepherd puppies, but that doesn't make it true.
Below, we've compiled a list of the truly best puppy products for GSDs, so you don't have to waste time or money on bad products. Let's dive in!
Click Here to Jump to a Section
What Makes the Best Products for German Shepherd Puppies?
Hands down, the most important feature in a good GSD puppy product is safety. Puppies will chew on everything, so all your puppy items need to be non-toxic and puppy-safe.
Anything approved by legitimate veterinarians or other animal health experts will likely be a good choice. However, that's not all you should keep in mind.
Look for products that are sturdy but gentle. Adult GSDs that enjoy chewing will often require the biggest, thickest, toughest chew toys and treats possible.
But that's not the case for GSD puppies. With their smaller, sharper teeth and sensitive gums, those big dog toys could do some damage. Opt for puppy-specific toys meant for large breeds.
Safety Issues for Puppy Products
Avoid anything with sharp edges, small pieces, springs or batteries, or long and thin strips like ribbons and strings, which can poke major choking hazards. Keep puppies away from plastic wrap and other sheets of plastic or plastic-like materials as they pose choking and strangulation hazards
Pay special attention to any worn or chewed items that appear to be losing integrity. Puppies are vigorous chewers and can often chew off small pieces of otherwise sturdy toys.
New German Shepherd Puppy Checklist
We'll go into greater detail below, suggesting some of our favorite products for your new German Shepherd puppy. Before that, we'd like to provide this quick and easy puppy checklist to help you get started. These are the must-have new puppy items you should have on hand before you bring your new puppy home.
• Crate
• Bedding: blankets, crate pads, blankets
• Food and water bowls
• Playpen or play yard
• Food
• Grooming supplies: brushes and combs, shampoo, nail clippers, dental care,
• Treats
• Toys: plush toys, chew toys, interactive puzzles
• Leashes, collars, and ID tags
• Training aids: puppy pads, training treats, clickers, and whistles, no-chew spray
• Cleaning supplies: pooper scooper, stain and odor remover, poop bags
The Best German Shepherd Puppy Products of 2021
You want the best for your German Shepherd puppy, and we don't blame you. Getting your relationship off to a good start begins by finding the best puppy products that are also the safest and best performing. Believe it or not, that doesn't always mean the most expensive.
The Best Crates for a German Shepherd Puppy
Your GSD puppy is going to grow fast, but that doesn't mean you're better off with an adult-sized crate right from the start. Puppies learn good potty habits when introduced to a properly-sized crate early on.
On the flip side, you can save some money by purchasing a crate large enough for your dog's adult size and simply blocking off a portion of it while she's still a pup. You have options!
XL Dog Crate with Divider by MidWest Homes for Pets
To get the biggest bang for your buck, we suggest purchasing this life stages crate by MidWest Homes for Pets. Its extra-large size can accommodate the biggest adult German Shepherd and the smaller GSD puppy. Using the handy, included divider, you can slowly increase the size of the crate to match the life stage of your GSD as she grows.
A 1-year warranty, versatile 2-door access, and "roller" feet make this an excellent choice for a new puppy. The tray inside is an easy to clean addition that's the perfect base for a soft dog bed and comfy blankets. The foldable design adds to the convenience and makes it a great crate for travel, too. This crate is 48L x 30W x 33H inches.
Dog Crate Divider
If you decide to purchase an adult-sized crate from the start that doesn't have a divider already, you'll need a sturdy and trustworthy divider to keep your puppy safely confined while he's still small.
This crate divider from MidWest Homes for Pets comes in a variety of sizes. Make sure you choose the proper size to fit your model of crate to prevent injuries.
New World Folding Dog Crate
If you'd like to start small and upgrade at a later time, you can start with this sturdy and puppy-safe crate from New World. The 36L x 23W x 25H-inch crate is a good choice for GSD puppies to start with, but it'll need to be replaced before she reaches maturity.
It's a good starter crate for a good price, and it comes with a tray for easy cleaning, a single door, and a collapsible style. This crate also comes in a double door style if you prefer. We like the rounded corners, sturdy wire construction, and the 1-year warranty.
New Age Pet's ecoFlex Pet Crate End Table
For those seeking a more permanent and classy dog crate for their GSD puppy, look no further than the New Age Pet ecoFlex Pet Crate and End Table.
It comes in a variety of colors to match your décor. More importantly, it's a solidly-built, comfortable crate that will help your puppy feel at home in her new den. This crate looks pretty sleek in any home, and it's made of a non-toxic material just in case your puppy tries to take a nibble.
Airline Approved SportPet Plastic Kennel
Sometimes you need a kennel that is airline approved, and those wire crates listed above just won't cut it. Enter the hard-shell plastic kennels from SportPet. These airline-approved crates are sturdy, safe, and comfortable to make sure your GSD puppy has the safest trip possible. They also make great everyday crates for at-home use, too.
This crate comes in a variety of sizes, so either start small and upgrade later or go for the adult-sized crate right from the start. With rounded edges, secure-lock doors, and easy-clean plastic floor gutters, this travel crate is sure to please. The larger sizes even come with wheels to help you move through the airport with ease.
The Best Bedding for a German Shepherd Puppy
Puppies sleep a lot, and while it would be fun to carry your sleeping GSD puppy everywhere you go, that's simply not practical. Give him the next best thing by providing soft, supportive, comfortable bedding for in the crate and around the house. Be sure your puppy's bedding is made for dogs, durable, chew-resistant, and please check it regularly for tears
Barkbox 2-in-1 Memory Foam Dog Cuddler Bed
The ultimate dog bed to pamper your precious new puppy comes from Barkbox. With supportive, comfortable memory foam and a removable and washable cover, this bed should last a long time.
There is therapeutic gel infused in the memory foam to help promote proper joint alignment and bring your dog comfort during rest time. Cuddle beds are great options for pups who need a little more support or who enjoy the feeling of being cradled. The raised sides will help bring comfort while your puppy sleeps
Barkbox Memory Foam Platform Dog Bed
If you prefer a dog bed with no sides, you'll love this platform bed option from Barkbox. Made from top-quality memory foam, your GSD puppy will be snuggled in therapeutic comfort right from day one. The waterproof liner will keep things sanitary, while the removable cover will make cleanup a snap.
Best Pet Supplies Washable Dog Crate Mat
You can put all kinds of comfy stuff in your puppy's new crate, but you'll want to make sure to have a supportive and comfortable pad underneath it all.
This crate mat from Best Pet Supplies Inc. covers your bases with an affordable but durable option. This mat is double-sided so you can fine-tune your puppy's crate experience. Choose from the faux suede side or the plush lamb's wool side to customize your GSD's crate environment. It's also washable and comes in a variety of colors.
Furbaby Premium Fluffy Fleece Dog Blanket
Choose from small, medium, or large in this fabulously fluffy fleece blanket from Furbaby. It's soft to the touch, super cuddly, and designed with your dog's needs in mind.
An affordable piece of luxury for any dog crate, couch, bed, or just a nice place to rest on the floor, you can't go wrong with this dog blanket. It comes in a range of colors and sizes, but all are machine washable and made of 100% polyester. Have a couple of these on hand for quick and easy bedding changes.
Juqiboom Premium Fluffy Fleece Dog Blanket
We love the versatility of this fluffy blanket from Juqiboom. It's perfect for a new puppy but can also be a sweet blankie for an adult or senior dog.
Choose between small, medium, large, or extra-large to match your use. Take a small or medium in the car, place a large or extra-large in the crate or on the couch. This fuzzy blanket will keep your pup warm and cozy no matter where you go.
My Doggy Place Ultra Absorbent Microfiber Chenille Dog Crate Mat
It's hard to overstate the need for absorbent but comfortable materials in a puppy's crate. This soft and cozy mat does double-duty covering both ends of the spectrum. Accidents happen, but that doesn't mean your puppy should be left to sit in a wet, uncomfortable crate. This absorbent mat will wick moisture away while still giving your sweet pup a soft and comfy place to rest.
Double stitching ensures the mat will last a long time, even with frequent washings. There are two colors to choose from and three sizes. We suggest having two—one for use and one in the wash.
The Best Food and Water Bowls for a German Shepherd Puppy
Most people don't give much thought to their pets' feeding equipment, but we feel it's just as important as anything else you'll get for your GSD. Food and water bowls should be kept clean and sanitized to prevent the growth of harmful bacteria. These products below pass our rigorous tests and came out on top of the competition.
Pet Zone Designer Diner ADJUSTABLE Elevated Dog Bowls
Adjustable feeders are the best of the best in our opinion. These raised feeder stations grow with your puppy and keep food and water raised above the floor. While it's not harmful for most dogs to reach down to eat and drink, it's sure not the most comfortable.
Raising the food and water dish off the floor helps your pup eat and drink comfortably while preventing pests from reaching. This one comes with 3 height adjustment settings and includes the two stainless steel bowls, too.
Neater Feeder Deluxe with Leg Extensions
Puppies aren't really known for their table manners, so they tend to be messy little fellas. With the Neater Feeder Deluxe, you won't need to worry about spills and drips quite so much.
With leg extensions, this feeder can adjust as your puppy grows, making this an economical solution, too. Easy clean plastic and stainless steel will be a true gift to future-you when it's time to clean.
JASGOOD Dog Feeder Slow Eating Pet Bowl
This is for sure one very thoughtfully designed and cool slow feeder bowl. Puppies can really eat fast, and this often ends up in tummy aches and sometimes even vomiting.
Teach your puppy to slow down with this slow feeder bowl. Small bits of kibble rest in the bottom of each dip in the bowl, making your puppy take her time to get to each one.
URPOWER Dog Bowls Stainless Steel Dog Bowl with No Spill Non-Skid Silicone Mat
Dog bowls tend to slide around and make a huge mess, especially with puppies. This neat rubber mat is cute and functional, holding the two stainless steel bowls firmly in place during meal times. The edges even fold up a bit to help catch spills and dribbles.
Loving Pets Metallic Bella Bowl
For our readers who prefer a more minimalist approach to dog supplies, these cute bowls should do the trick. They come in a variety of colors on the outside, but the inside is time-tested stainless steel. These bowls are skid-proof on the bottom and are dishwasher safe, too. Just be sure to remove the rubber base first.
The Best Playpens and Yards for a German Shepherd Puppy
As much fun as it would be to let your new German Shepherd puppy roam, it's best to keep these playful furballs confined until they learn some manners. The best way to safely confine a GSD puppy while still allowing room to play is by providing a playpen or play yard.
AmazonBasics Foldable Metal Pet Exercise and Playpen
A playpen doesn't have to be expensive to work well. Amazon comes through with flying colors with this adjustable, foldable playpen. It has rounded, safe wire construction and comes in a variety of sizes to fit your needs.
You can also daisy chain a few of them together to create an ever-expanding play yard for your GSD puppy. You can choose a play yard with a door or without. This set also comes with eight ground anchors to keep even the most rambunctious puppies from toppling the sides.
Inspired Essentials 34 Inch Pet Playpen
Sometimes you want a safe play yard for your German Shepherd puppy but also want some class, too. That's where the Inspired Essentials playpen comes in handy.
With sturdy, heavy-duty plastic in black or white, this play yard can look good in any house or yard. Being plastic, it's naturally weather and accident-proof, plus it's super easy to keep clean. There are non-skid feet included and it comes with a gate to make access that much easier.
Ruff 'n Ruffus Portable Foldable Pet Playpen + Carrying Case
Who says you have to leave your GSD puppy home alone when you go out? Bring her along with this brilliant portable playpen. It's foldable, comes with a cool carrying case, and it sets up in an instant.
This set includes a collapsible travel bowl, too, which we think is pretty neat. Water-resistant and available in three sizes, there's also a removable shade cover to keep your puppy cool on sunny days. We love how lightweight this portable play yard is, and how secure it'll keep your pup.
Regalo 192-Inch Super Wide Adjustable Baby Gate and Play Yard, 4-In-1
This wide, adjustable play yard can double as a gate for large entryways or arches in your home. It's even complete with a 4 pack of wall mounts so you can make a semi-permanent safe zone for your puppy.
This item comes with 192 inches of usable length and stands at 28 inches tall. We love that it even folds flat if you need to transport or store it.
The Best Foods for a German Shepherd Puppy
What to feed a GSD puppy is a hotly debated topic online. We're not going to make any specific suggestions in this article because the topic is quite in-depth. However, we can give a basic overview of things to discuss with your vet when asking about the best foods for your puppy at each life stage.
• What nutritional needs will my GSD puppy have at each stage of life?
• Should I feed my GSD puppy supplements?
• What are the best food options for my puppy to prevent obesity?
• How often should I feed my puppy and how much?
• Are there any ingredients I should avoid in my GSD's food?
• Should I feed wet, dry, raw, or something else?
Your puppy's nutritional needs will vary wildly throughout her life, so be sure to have this important conversation with your vet. There are always basic guidelines online, but your vet is the right person to ask for advice to keep your specific puppy in the best health possible.
The Best Grooming Supplies for a German Shepherd Puppy
Grooming your puppy is an awesome way to build a lasting, loving bond with him. It's also a good way to check on your pup's growth, health, and any issues that may be present. We covered the best grooming products for German Shepherds already, so we don't want to fill this article up with repeat information.
Head over there after you're done here to get the rundown on the best grooming items for GSDs!
The Best Treats for a German Shepherd Puppy
While your GSD puppy's major source of nutrition should always be a well-balance food, it's good to leave room for some treats, too. We have listed some favorite treats specifically formulated for puppies' tender tummies.
Zuke's Puppy Naturals Dog Treats
Puppies have sensitive tummies and need gentle ingredients to keep them from having gastric upset. Zuke's is crafted in the United States with the highest quality ingredients.
Their products are made without corn, wheat, or soy, and there are no artificial colors or flavors. The treats come in a variety of puppy-approved flavors, so try them all to find your pup's favorite.
Wellness Natural Grain Free Puppy Training Treats
Another great treat for puppies that also uses no grains is the Wellness Natural Grain-Free Puppy Training Treats that come in two healthy flavors.
Small, soft, and tasty, these treats were made with a puppy's tender gums and small teeth in mind.
Blue Buffalo BLUE Bits Natural Soft-Moist Training Dog Treats
Blue Buffalo is a well-known name in healthy pet food. Their puppy treats contain no corn, wheat, or soy, and are perfectly shaped for puppy mouths.
Soft and moist, these puppy treats are great for training, playtime, or just to give your GSD puppy a special treat to say you love her. There are four flavors to choose from, each developed with a puppy's nutritional needs in mind.
N-Bone Puppy Teething Ring Chicken Flavor
These uniquely-shaped teething rings are a treat and a toy all in one! The ring shape is easy for puppy paws to get a good grip on while they chew and relieve teething pain.
Fully digestible chicken, dried potatoes, and brewer's yeast make this a healthy alternative to dangerous rawhide or cheap plastic teethers.
The Best Toys for a German Shepherd Puppy
Toys are a huge part of every puppy's life. They are fun, interactive, and educational objects that keep your puppy entertained and out of trouble. The most important aspect, however, is that toys help you bond with your German Shepherd puppy. We've covered toys for all German Shepherds here, but here are some of our other favorites specifically for puppies.
SmartPetLove Snuggle Puppy Behavioral Aid Toy
Coming to a new home is scary and stressful for puppies. They often show signs of separation anxiety early on, especially while crate training. To help alleviate this stress, the Snuggle Puppy plush toy can be introduced right from day one.
With a realistic heartbeat and a warm pack, this plush toy gives stressed out pups a soft, comforting, familiar place to rest and relax.
Multipet Loofa Dog Plush Dog Toy
Loofa dogs are cute, cuddly, fun toys that dogs of all sizes and ages love. The unique tube shape is easy to grasp with teeth or paws, and the squeaker is just loud enough to be fun without being so loud it gets annoying.
These toys are fun to toss around, play tug with, and are durable enough for teething puppies. They're great for snuggling, too.
ZippyPaws – Skinny Peltz
These sweet plush toys have no stuffing to rip out and choke on, which is a pretty big deal for aggressive chewers! But even without the stuffing, these three woodland creatures are filled with fun.
Three squeakers keep pets entertained, and the washable "skins" make cleanup a snap. It's worth mentioning that these toys are made in China, so if you're not interested in imported toys, you can skip this one.
StarMark Bob-A-Lot Interactive Dog Toy
Interactive puzzle toys are awesome for puppies because they keep pups busy while also building strong brains. This bobbing, wobbling treat dispenser is endless fun when filled with either regular kibble or a delicious treat.
Your GSD puppy will love pushing the toy around and discovering which actions give them the most rewards.
The Best Leashes and Collars for a German Shepherd Puppy
Leashes, collars, and harnesses are important pieces of German Shepherd puppy equipment. These items will help to properly train, retrain, and identify your dog, so don't skip them!
CollarDirect Rolled Leather Dog Collar
These soft, rolled leather collars are gentle on tender puppy necks and won't dig in or cause painful rub spots. They come in a huge variety of colors, too. Genuine leather, handmade, comfy, and stylish!
Logical Leather Padded Dog Collar
Another excellent choice for comfort and style is this padded leather collar from Logical Leather. There are many colors to choose from and each is lovingly crafted with riveted strap ends, premium hardware, and padded sheepskin linings.
Unique Style Paws
We don't know about you, but we think German Shepherds deserve a little style and pizazz. These cute collars come with matching bowties in a variety of colors and patterns. The bows can be removed, so you won't need to worry about choking hazards. These collars are also machine washable.
Lucy & Co. Reversible Dog Harness
A comfortable, supportive, and secure harness can help your new GSD puppy learn good manners while showing off her unique style. This harness comes in a range of sizes to be sure your pup is covered at every stage. Sturdy construction accompanies lightweight materials and stellar design choices for a top-notch harness option.
PUPTECK No Pull Dog Harness
Harnesses don't have to be fancy to be safe. This is a low-cost harness option with all the safety of the more expensive brands. Reflective materials and bright colors help keep your pup visible and safe, even on evening walks around the neighborhood.
Vivaglory Dog Training Leash With Padded Handle
A good leash for a German Shepherd puppy will be sturdy, strong, and easy to hold. This budget option from Vivaglory doesn't skimp on the safety features. In fact, with a thick padded handle and reflective durable nylon, you're getting more safety for a lower price than many other leashes on the market.
MayPaw Heavy Duty Rope Dog Leash
For those seeking something stylish and comfortable to hold, the MayPaw heavy-duty leash might be just the thing you're seeking. Great colors, sturdy construction, and a strong clip make this leash a good choice for any age GSD. The padded handle is a nice touch, while the smoothly rotating clip helps keep tangles at bay.
The Best Training Aids for a German Shepherd Puppy
Training aids aren't always considered necessary, but we believe having the right tools from day one will make your puppy training easier and smoother. Here are some of our favorite puppy training aids to get you started on the right paw.
JdPet Washable Puppy Pads
While most GSD parents want to housetrain their pups to go potty outside, there are some good reasons to potty train a pup to use an indoor bathroom option, too.
We like the washable, leak-proof, and waterproof reusable pads for this situation. They are environmentally friendly, keeping disposable pads out of landfills or clogging sewage and septic systems. Get a few of these absorbent, washable pee pads for your GSD puppy and save a lot of money down the line.
Solimo Super Absorbent Puppy Pads
Washable pee pads might not be a good option for all homes, so disposable wee pads are still a decent choice. These potty-training pads are super absorbent, unscented, and are available in big or small packs, depending on your needs.
PetSafe Pet Loo Portable Indoor/Outdoor Dog Potty
If the price is no concern for you and you want to give your puppy the absolute best indoor bathroom option available, you can grab a cool portable pet loo.
They can be used indoors or outdoors, which is a nice touch for when it's time to transition your puppy to outside potty time. The artificial grass is easy to clean and the catchall bottom just needs a quick spray with the hose to stay fresh.
HoAoOo Pet Training Clicker
Training clickers are an excellent way to train pups and older dogs to associate the clicking sound with a reward. This reduces caloric intake later on, as the click becomes the reward instead of a mouthful of treats. These clickers come with a handy wrist strap and are small enough to fit in a pocket, too.
The Best Cleaning Supplies for a German Shepherd Puppy
Your puppy will inevitably make some kind of a mess. Tackle problems head-on with the right cleaning supplies.
TIMINGLIA 33″ Long Handle Portable Pooper Scooper
Ah, yes. The pooper scooper. It might not be the most glamorous tool in your toolbox, but you're going to love having it around. This poop scoop is designed with big and little dogs in mind, so it'll work throughout your GSD's life. No more bending, stooping, and straining yourself to clean up the yard. This long-handled and strong scoop can pick up even the most impressive lawn apples your pup leaves in his wake. It's even foldable, so you can tuck it out of sight when not in use.
DogBuddy Portable Pooper Scooper
Ready to go for walks? Bring this small, compact, and portable pooper scooper with you and you won't need to touch poo ever again. We love the slim design and the fact it hooks right onto the leash. The integrated waste bag section lets you place a whole roll inside.
Lucky Dog Zero Plastic Poop Bags
Ready for some eco-friendly magic? These poop bags are 100% biodegradable! They will break down completely because they have no plastic.
There are no dyes or other chemicals either, making these poo scoop bags even cooler. 100% plant-based, this is the next generation of responsible dog ownership and Earth stewardship. High fives all around, folks.
Earth Rated Dog Poop Bags
We know you love everything about your dog, but we're pretty sure you don't love the poo. With these extra thick poop bags, you won't have to worry about seeing or smelling those little logs for long.
PetSafe Enzyme Dog Living Area Cleaning Solution
Don't go without some cleaning enzymes in your cleaning arsenal. These powerful little proteins are the products of bacteria—the good kind—and do one heck of a job fighting odors. This one even works on stains! Chemical-free, non-toxic, and powerful cleaning is right at your fingertips.
K-O-E Kennel Odor Mild Ginger Eliminator
If you're looking for serious odor elimination, you want to get a gallon of KOE. Used by breeders, boarders, and vets alike, this powerful cleaner is an awesome ally in the fight against pet odors. It can even take out old, impregnated smells that have been around for years.
Final Thoughts
By now you should have a complete list of everything you need for a new German Shepherd puppy. We've covered all your bases with some of our trusted, favorite products. But don't stop there. Be sure to ask your vet for their recommendations as well.