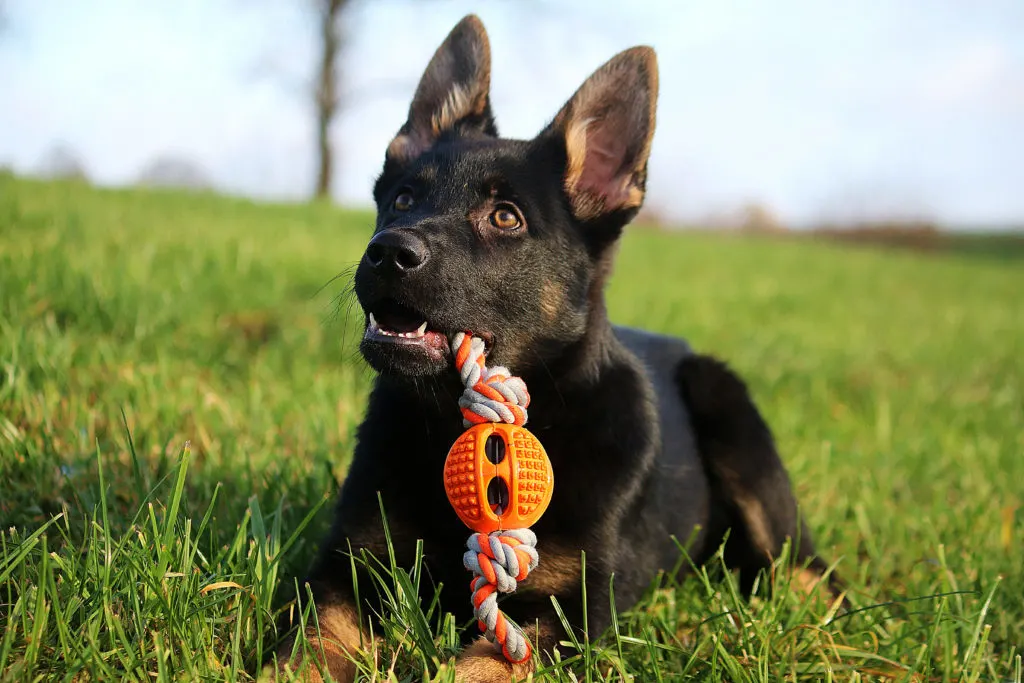 Toys are an important part of life for German Shepherds of all ages. They provide entertainment, physical and mental stimulation, and a host of other benefits.
But not all toys are created equal. In fact, some toys on the market today can be downright dangerous for German Shepherds!
But don't worry. We have done the paws-on research and compiled a list of the best toys for German Shepherd puppies and adults so you can get back to playing with your pooch.
Click Here to Jump to a Section
In a hurry? Here are a few of our Top Picks
Click on ANY image below to see ratings and reviews on Amazon
Why Are Toys Important for German Shepherds?
Dogs are playful, intelligent, and curious creatures by nature. That means they are always looking for something to do. Without physical and mental stimulation, dogs can become bored, depressed, or even turn to aggressive behaviors just to get a thrill.
With large dogs, such as the powerful German Shepherd, boredom and aggression can turn destructive and straight-up dangerous. However, when you provide appropriate toys for your German Shepherd, you are taking an important step in preventing that damage.
Toys Provide Physical Stimulation
The best toys for GSDs provide physical stimulation. This helps burn off excess energy, builds muscle tone and mass, and can improve agility and reaction times, too. With the proper toys available, your German Shepherd can get exercise with or without you, which then helps keep their bodies healthy, lean, and strong.
Switching out the toy selection every month or so also keeps things interesting by focusing on different physical skills. Chasing, seeking, chewing, pouncing… all of these actions serve a purpose for the busy GSD, so give her lots of toys to choose from.
Toys Provide Mental Stimulation
A bored dog can be a dangerous thing. When left to their own devices in a house devoid of toys, German Shepherds often turn toward destructive behaviors. This can result in chewed furniture, torn curtains, and damaged clothing or shoes. That's not even covering the damage a GSD can do to other pets or people in the house if they're bored.
If you give your GSD the right toys, he will have a safe place to turn to for mental stimulation. He'll keep his mind busy trying to figure out the puzzle or work out the best way to play with his new toys.
Toys Provide Relief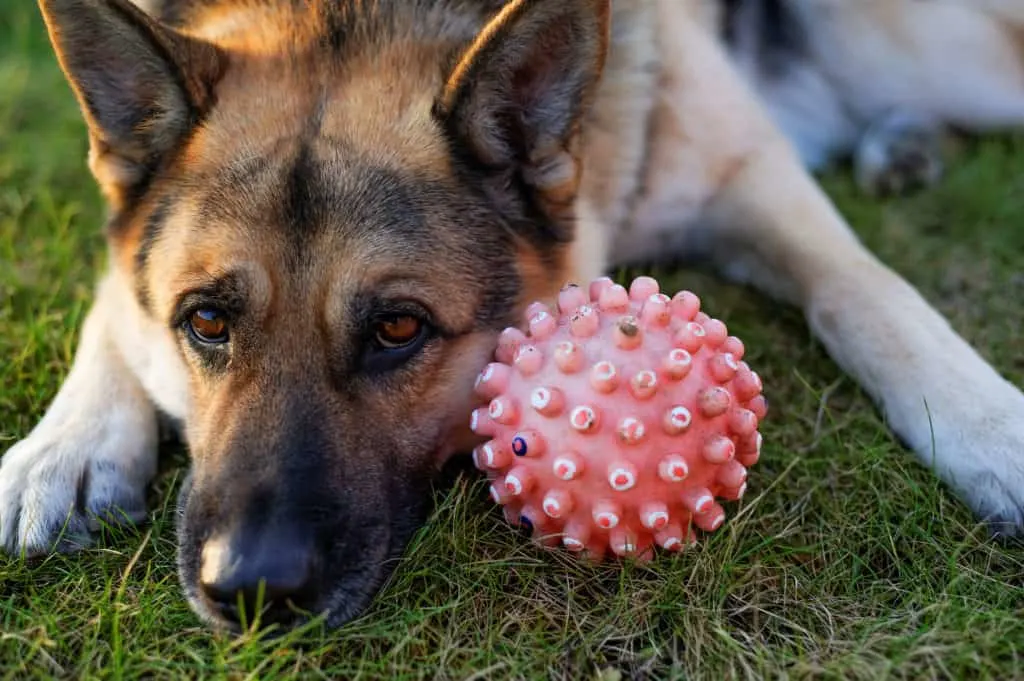 Have you ever seen one of those squishy, handheld blobs that many office workers keep on their desks? These "stress balls" are a good way for humans to relieve stress in a positive, harmless way.
Fidget spinners and other fidget toys for people do the same thing. Many humans swear by these devices and toys as huge stress relievers at work and at home, and the same can be said for German Shepherds and their dog toys.
Think of a chewy ball or tug rope as a stress ball for your GSD. Many dogs enjoy chewing as a playtime game, but many need chewy time to relieve stress, pain, and fatigue. For puppies, chew toys are the number one way to help them through the painful and stressful teething stage, too. But even older dogs still love to chew.
Toys are Great Training Aids
Beyond the realm of entertainment, stress relief, and exercise, toys provide a great way to train your German Shepherd. Many professional trainers encourage pet parents to use toys and playtime as a reward for good behavior instead of fattening treats.
By rewarding a well-behaved dog with playtime and attention from you with a favorite toy, your dog is learning that you are the source of their happiness.
Some dogs associate a specific toy with training time. Other dogs will happily go through their paces with any toy, as long as you're the one holding it. Experiment with your dog to see which toys they like to train with the best.
Toys Help Build Strong Bonds
This point goes right along with the previous one, but it can stand alone, too. Providing toys for your dog is one thing, but when you spend time playing with those toys with your German Shepherd, you are building a stronger bond with her.
German Shepherds love their humans. They are loyal and courageous dogs that would give their lives for their human pack mates.
When you, the alpha of the pack, choose to spend time playing with your German Shepherd with toys and other props, your GSD will feel important and loved. This strengthens their loyalty to you and your family.
Who knew teddy bears and rubber balls could be so powerful?
The Best Toys for German Shepherds
Now that you can see the huge and varied benefits of getting the right toys for your German Shepherd, we get to explore the fun part! Who doesn't love buying toys for their dogs? Below, we've broken the list down into age groups to make it easier to find your dog's perfect new toys.
Puppies need different types of toys than adults. Senior GSDs need toys, too, but they often have special needs, so they get their own section as well.
We've curated this list of the best toys for German Shepherds by our own dogs' usage, looking at the durability, safety profile, value for mental and physical stimulation, and many other factors.
We've also checked the reviews and looked into each company as a whole to be sure our own experiences with specific toys aren't flukes.
How to Choose the Best Toys for German Shepherds
We've gone over why toys are important for GSDs, and now we'll show you what to look for when toy shopping for them. Even though we've provided a hefty list of the best toys for German Shepherds below, we want you to be confident when you're out shopping for toys on your own too.
The following things are important to keep in mind while toy shopping for German Shepherd puppies or adults.
Safety first. Dog toys should be sturdy, chew-resistant, and made with non-toxic, pet-safe materials. Avoid strings, ribbons, buttons, and other small objects that can be inhaled.
Size matters. The size of your dog will determine the best size toys for them. Giving small toys to large dogs is a recipe for disaster.
Be careful with squeakers. Many dogs have a strong drive to seek and destroy the squeakers in toys. This can result in a choking hazard as well as a huge mess. Supervise playtime with squeaky toys to prevent accidents.
Safe for kids usually means safe for dogs. If you're unsure of the safety of a specific toy, or even if it's a dog toy at all, you can err on the side of caution by checking the label for "safe for children under 3 years of age". That statement means that the toy contains no toxic parts or small parts that a small child could choke on. That means it's likely safe for your dog, too.
Check the stuffing. Avoid toys filled with dangerous stuffing materials such as polystyrene beads, nutshells, and potentially toxic synthetic fibers.
Best Toys for German Shepherd Puppies
Before four weeks of age, puppies don't require any help from humans to be entertained. Mama and siblings will provide everything a young puppy needs, but once they start walking, it's time to introduce toys.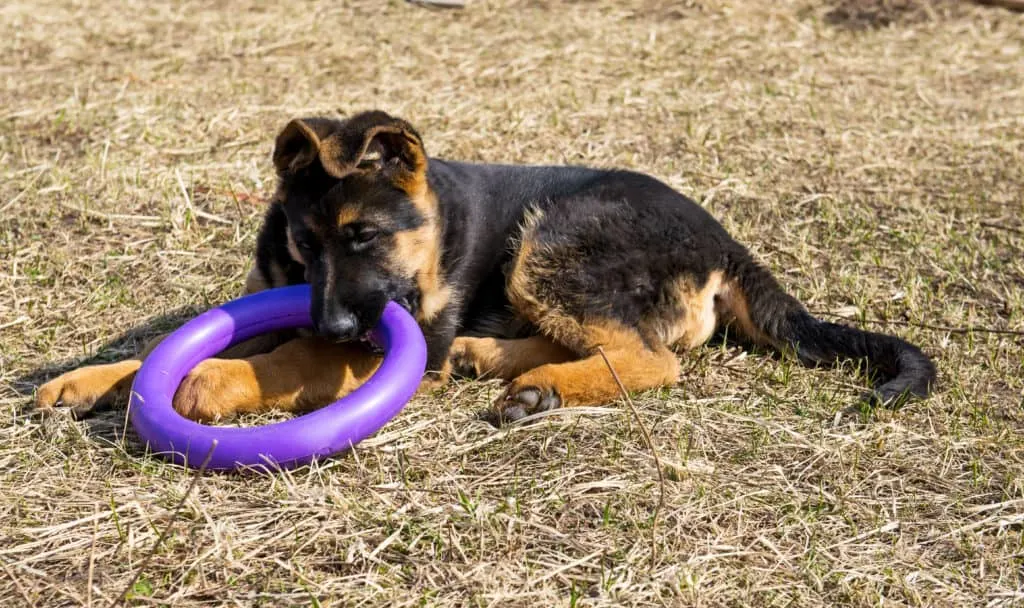 Start small with GSD puppies. They have small, sharp teeth and are still quite wobbly on their feet. They can be top-heavy, too, so make sure any toys you give to a GSD puppy are lightweight and easy to carry around.
The best toys for GSD puppies include chew toys in various shapes, sizes, and textures, simple rolling toys to chase, and small toys to play hide and seek with.
Older puppies may also enjoy puzzle toys that slowly dispense treats or hide toys inside. Sleepy puppies like to snuggle with soft toys, so don't neglect those stuffed toys.
Kong Teething Chew Toy for Puppies
Kong toys are, paws down, the best chew toys on the market. When they first came out, they only had one size that was aimed at adult dogs. Thankfully, over the years, they developed new sizes, shapes, and chew levels for dogs of all sizes and ages. The puppy Kongs were a welcome blessing!
These durable, soft chew toys are specially made for sensitive puppy teeth and gums. They are made of pet-safe and puppy-friendly soft rubber that can bounce all over and encourage your pup to play.
The hollow center leaves room to stuff the toy with a soft, nutritious treat that keeps puppies entertained and soothed.The rubber in this puppy Kong was designed to help relieve teething pain. It has just enough give and a supple, inviting texture that teaches German Shepherd pups where to chew—which stops them from chewing on you!
What's even better about Kong toys is that they can be washed in the dishwasher. Since germs and bacteria can spread quickly on dog toys, it's important to keep your GSD puppy's toys as clean as possible. Just pop this puppy Kong into the dishwasher and set your mind at ease.
These toys also come in a variety of sizes. That means you can upgrade your young pup's Kong toy to match his size as he grows.
Do keep in mind that puppies are especially prone to choking. If you're in doubt about the size you should purchase, get the next bigger size King, just in case. He'll grow into it!
We really love the fact you can keep multiple Kongs loaded with treats and ready. Just fill them up, pop them in the freezer, and you'll always have a fresh supply of teething relief and playtime for your pup.
Plush Hide and Seek Puzzle
Many puppies enjoy puzzles, but most are made for adult dogs. With this cute, plushy dog toy, even little puppies can start playing with puzzles! We love this toy because it has soft, cuddly squeaky toys that can be used alone or with you.
This puzzle toy for puppies has several levels of difficulty to help teach your German Shepherd to seek and find, retrieve, and work out solutions all on her own.
For interactive and bonding playtime, toss the inner toys around and watch your puppy chase them. Stuff them inside the bigger toy and help her figure out how to get them out. Hide them under blankets and encourage your pup to explore and find them.
Even better? You can choose between squirrels in a tree trunk, bees in a hive, birds in a cute little house, hedgehogs in a log, or a rainbow with some magical friends. Many of these styles come in multiple sizes, too.
goDog Dragons
The goDogs Dragons is a textured plush toy with Chew Guard Technology for tough puppy chewers. Pups love the nubby fabric and understuffed body for floppy, chewy playtime. The squeaker is hidden inside the tough and durable Chew Guard liner to make it safer than standard plush toys.
The best part is that this toy is backed by a killer guarantee. If you're not satisfied with your goDog Dragons, just contact the manufacturer!
Consuela the Cactus
Meet Consuela the Cactus, your GSD puppy's new best friend! This cactus isn't prickly and painful; on the contrary, Consuela is a soft plush toy for cuddles, fetch, and safe chew time.
This is a dense toy, so it will have less give than the no-stuffing toys, but provide padding with each chomp. That just means a new kind of teething relief for sore puppy gums.
It has a squeaker inside to encourage active play. Just be sure to supervise your puppy if you give her a turn with Consuela; since this is a plush toy, she can come apart with wear and tear and the squeaker could become exposed. This is a great choice for supervised playtime with you!
Rope Teething Toys
Many puppies like to teethe on rope toys, so don't forget to include a few of these tough, durable, and washable toys in your pup's toy chest. This pack comes with enough rope toys to likely last through puppyhood.
With different shapes, sizes, and textures, this selection of rope toys can provide many hours of entertainment and safe chewing pleasure. Alone or with you, puppies of all sizes enjoy rope toys. Just be sure to wash rope toys often to prevent the spread of germs.
Best Toys for German Shepherd Adults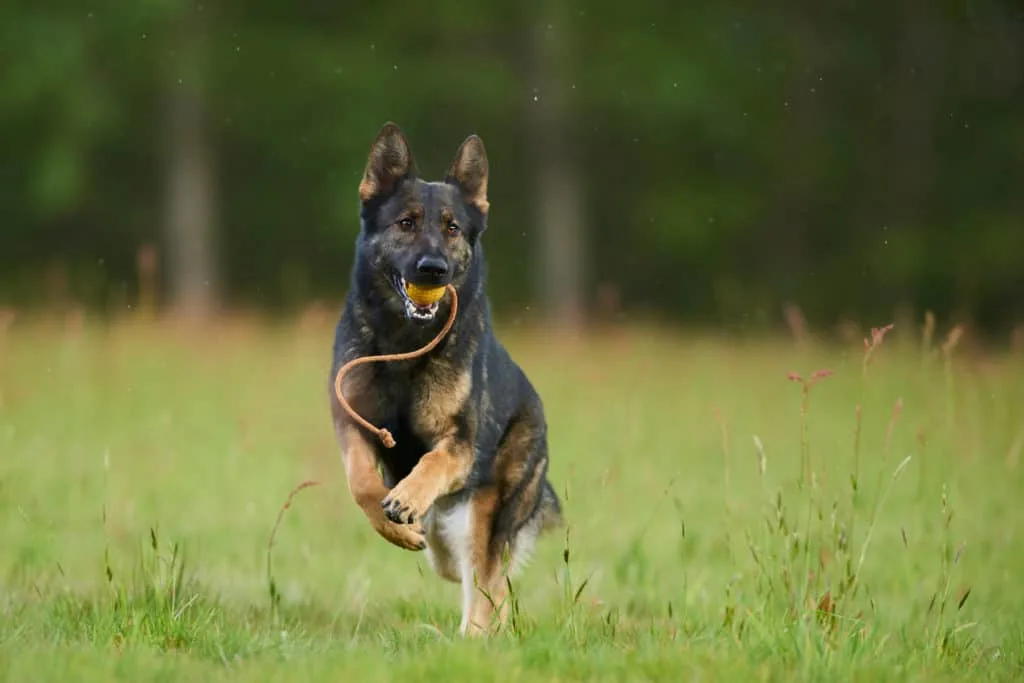 Playtime doesn't end when your puppy grows into an adult. In fact, adult German Shepherds need plenty of playtime and exciting toys to keep them busy, happy, and healthy. From active toys to comfort toys to toys that will make your dog smarter, we've got a complete list of the best toys for adult German Shepherds.
Classic Kong
You can't go wrong with the classic Kong chew toy when it comes to entertaining an adult German Shepherd. While Kongs now come in a wide variety of textures, shapes, and sizes, the classic Kong is a great place to start.
It has just the right amount of give when chewed, without breaking down or wearing out. These durable toys are backed by the trusted Kong name, and they come highly recommended by veterinarians, breeders, and trainers.
The hole in the center gives plenty of room for treats, soft food, or any stuffing of your choice. Toss it in the freezer for an added challenge and increased playtime.
Kongs are dishwasher safe, so that makes cleanup a breeze and keeps those icky germs out of your dog's mouth.
Kongs aren't just solo toys though. The special rubber material is designed to be tossed. When it hits the floor, it'll bounce in unpredictable ways, making fetch and chase games with you that much more enjoyable.
If your adult GSD is a powerful, aggressive chewer, you might want to try the extra-large Kong. It's made of even tougher rubber
Snuffle Mat
A lot of behavior problems in the GSD breed can be traced back to boredom. These intelligent dogs need a job, and if they don't have a job, they need some kind of hobby to keep them busy. The Snuffle Mat taps into that instinct to stay busy while harkening back to the primal days of foraging for food.
Sprinkle some kibble or small treats in the Snuffle Mat and watch your German Shepherd go nuts! This mat helps stimulate your GSD's mind and body, encouraging him to sniff, sniff, sniff for his dinner. The wooly fibers flop about, mimicking grass and vegetation outdoors.
This is a great toy for scent training, tracking, and just to keep your GSD busy. It's also a good choice for stress relief and distraction from pain, itchiness, or anxiety.
What's great about this Snuffle Mat is the fact it can be washed in a washing machine. Lots of other mats must be hand-washed, which is a huge pain. This sucker can be tossed in the machine and still come out perfectly.
Orbee-Tuff Snoop
Active GSDs need toys that can keep them entertained for hours, are durable, and that provide mental stimulation as well. The Orbee-Tuff Snoop ticks all the right boxes!
This ball-shaped toy has a sneaky treat holder inside. But your dog will have to do more than just roll it around to get the reward. With the unique, snout-shaped indent, your GSD will need to figure out how to squish, roll, drop, and toss this toy to get the treat out.
For added difficulty, you can pop a 2.5″ ball inside the snoot hole, too. Then your dog will have to find a way to dislodge the ball first, then get the treat out.
This toy is a lot of fun for solo play, but it's also a great option for silly and fun bonding time with you.
BPA-free, non-toxic, and made in the USA, this toy is also easy to wash.
Outward Hound: Dog Smart Puzzle
Sometimes puzzle toys are a bit too hard right out of the gate. If your dog is a puzzle toy beginner, you can give him a boost of confidence with this beginner level treat-dispensing puzzle tray.
It comes with nine removable, bone-shaped caps that hide treats or kibble. Your German Shepherd will need to use his nose to figure out which caps the treats are hiding under, then figure out how to get them.
There are two levels of difficulty built right in. Start with the caps elevated to help your dog learn the game. After she's got the hang of it, bump up the challenge by placing the caps flush with the tray.
This is a washable, reusable, interactive toy that can help hone your GSD's sense of smell and problem-solving. A bonus to this toy is that it can act as a slow feeder, too.
Nylabone Chews
From one of the most trusted names in dog chews and toys comes the wide range of styles, shapes, flavors, and textures of Nylabone Chews. We love the stick-shaped chew for German Shepherds who have the dangerous habit of chewing real sticks.
The shape and texture of this Nylabone satisfy that urge while keeping your precious pup from swallowing harmful splinters and wood chips.
Nylabone comes in an array of densities so you can choose the size and toughness that's just right for your GSD's stage of life.
KONG Extreme Ball
Once again Kong makes it onto our must-have list of the best toys for German Shepherds. This time, it's a big, black ball. It might seem simple at first glance but this is no ordinary ball.
Sure, you can toss it for a game of fetch, but this tough fella won't buckle under the pressure of hours of chompy, slobbery fun.
Made with Kong's impressive black rubber, this ball can handle the toughest, most aggressive chewers you can imagine. It's made in the USA of puncture-resistant and dog-friendly rubber. It's time to toss your old tennis balls in the trash and replace them with one or two of these awesome balls.
Best Toys for German Shepherd Seniors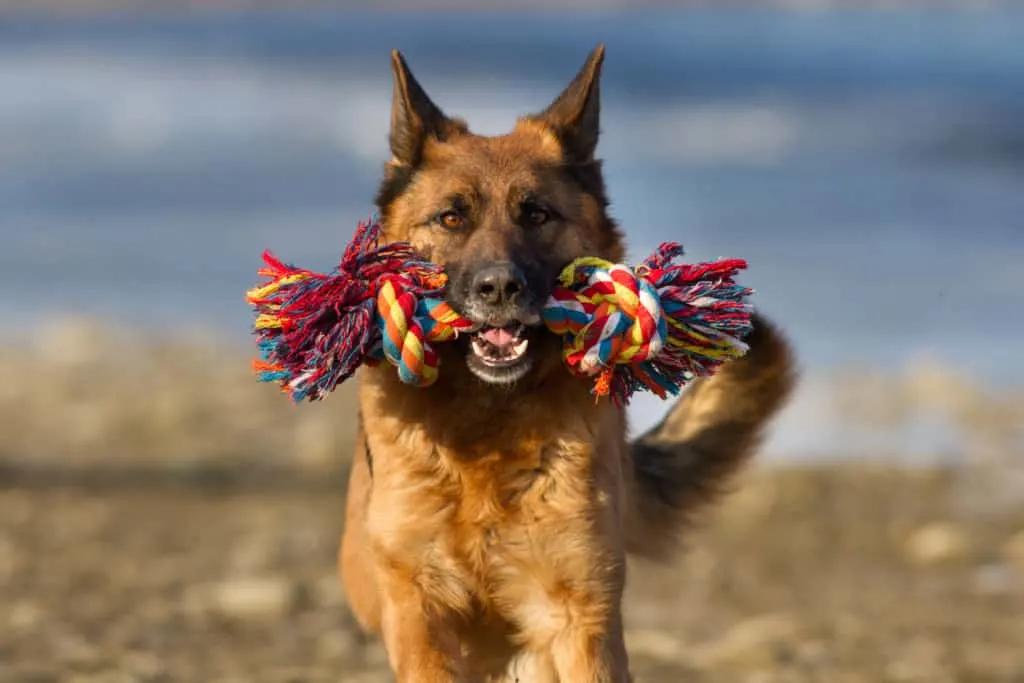 Old dogs need entertainment too, so don't neglect your senior GSD's toy needs. Many older German Shepherds lack the energy reserves for active play like tug games or chasing balls.
That doesn't mean they won't benefit from easier activities. Older dogs sometimes have dental issues, so hard chew toys are no longer fun for them.
And, of course, aging dogs often have sight or hearing problems to contend with, too. But none of these problems will stop an old dog from enjoying these awesome toys for senior dogs!
Hyper Pet IQ Treat Mat
As dogs age, they can sometimes overeat or eat too fast. With a senior dog's slowing metabolism and reduced activity level, this can lead to obesity and gastrointestinal issues. The Hyper Pet IQ Treat Mat is the answer.
Just spread their wet food, peanut butter, yogurt, or another squishy treat on the mat and watch your old German Shepherd perk up. The Hyper Pet IQ Treat Mat is made of a tough, washable material that is easy to clean and maintain.
The different textures of the mat feel good on aging teeth and gums, and provide a fun, tactile experience to keep old dogs entertained.
For a longer experience, you can freeze the Hyper Pet IQ Treat Mat in advance. The frozen treats will slowly melt as your dog licks, calming him and providing stress relief and comfort.
ZippyPaws Plush Squeak Toys
A lot of senior dogs enjoy a good plush toy, so why not give them an adorable, chewable, cuddly dinosaur to play with?
Your older GSD will enjoy the fun textures of this soft but durable pal. You'll love the fact it's made with no chemical dyes, no VOC plastics, and is 100% Earth-friendly.
It has a squeaker inside, but the body is durable enough for moderate, slow chewers, such as senior German Shepherds. You can choose between a brontosaurus or a triceratops. If dinos aren't your thing, you can pick a vulture instead! All are adorable and suitable for senior GSDs.
Blinky Babble Ball
Whether your senior German Shepherd has eyesight or hearing problems, the Blinky Babble Ball is a great option to keep her active. With flashing lights and a variety of enticing sounds, this ball will help aging dogs get their exercise and stay fit.
The ball is motion-activated, so all it takes is a little tap. But it doesn't just keep going forever. After some time of inactivity, the ball shuts itself off to conserve battery power.
Do keep in mind that this ball is made of hard plastic, so it may not be a good choice for heavy chewers.
Which Toys Are Bad for German Shepherds?
Now that you've seen what a good dog toy looks like, let's talk about some bad ones and what makes them so. A bad dog toy is one made with cheap, flimsy materials. These toys can fall apart within minutes of giving them to your dog.
If you're lucky, you'll be there to stop a tragedy before it happens, but that's not always the case. When cheap dog toys fall apart, small pieces can break off and be swallowed, get lodged in your dog's throat, or muck up her intestines and bowels. This can lead to panicked trips to the vet, emergency surgery, and even death.
Worse yet is when those cheap materials come from unknown locations. We've all heard horror stories about toxic substances finding their way into our pets' food, medicines, and toys.
Be a smart dog parent and check the country of origin for every toy you bring home. When in doubt, skip it! Your dog's health isn't worth risking to save a few bucks.
Any trustworthy pet toy manufacturer should be easy to reach through phone or email. If you can't get a hold of a real live human being, skip that toy company.
A bad toy for your dog can also be a "good" toy for another dog. What we mean by that is not all safe and high-quality toys will be the right fit for all dogs.
There is no one perfect toy for every dog, so be aware of what your GSD's needs are. Puppies should never be given tiny toys that can be swallowed, for example.
A Word on Rawhide
In a perfect world, rawhide would be a great, safe, inexpensive, and fun toy for your dog. However, it's not a perfect world, and rawhide comes with a lot of problems.
Bacteria and Toxins
First and foremost, rawhide comes from cow and horse hides—it's that soft, pliable inner layer under the fur. During processing, rawhide can be contaminated with any number of toxic substances and bacteria, and you'd never know until it's too late.
Even humans can become victims of rawhide's dirty little secrets. Infamously, E. coli loves to hang out on rawhide, ready to make pets and people sick in an instant.
Rawhide has been known to cause digestive issues in dogs of all ages. While it isn't widespread, like epidemic proportions, it's still common enough that we can't recommend rawhide as a first-choice toy.
Swallowing pieces of rawhide can cause diarrhea, vomiting, and other digestive irritation that can easily trigger a cascade of other health problems.
Choking Hazards
Since we're talking about rawhide being swallowed, it's important to mention the choking hazard of rawhide, too. Dogs love this stuff, and they will chew for hours on end.
It doesn't take a strong chewer such as a German Shepherd to chew small pieces off and swallow them. Many unlucky dogs have choked on these pieces of indigestible hide, some even losing their lives because of it.
Blockages
If your dog is lucky enough not to choke on the rawhide she swallows, and her piece wasn't coated in toxins or bacteria, there is still a chance the rawhide could cause serious health issues.
We're talking about blockages all through the digestive tract. A big enough piece of rawhide can end up wedged in your pup's intestines or bowels, for example. Left untreated, this can lead to death. If caught in time, it could require expensive and painful surgery.
Final Thoughts
Toy shopping for your German Shepherd should be fun and rewarding, but with all the options available—and all the scary stories floating around—it can be stressful, too. Hopefully, our list of the best toys for German Shepherds has given you a good place to start.
Any one of the toys listed here will please even the pickiest German Shepherd puppy, adult, or senior.
Whatever toys you choose, be sure to spend time playing with your GSD and his or her new toys. There is nothing as special as playtime bonding with a happy German Shepherd!