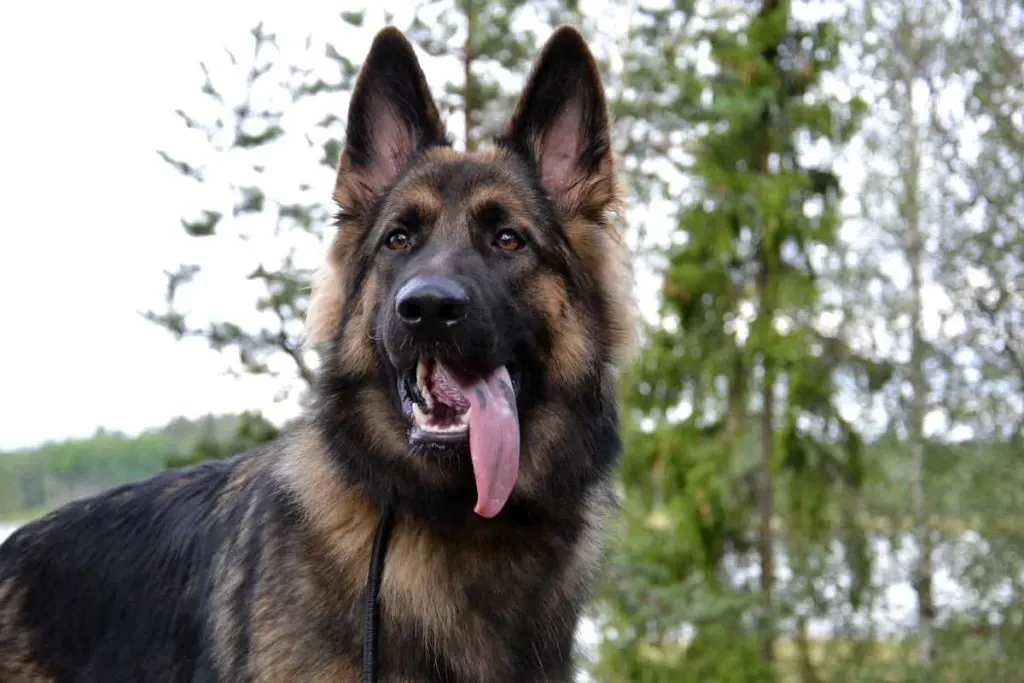 While it's true that you can bring your German Shepherd in to see the groomer when he gets dirty, that can get expensive and be rather time-consuming. And what if you can't leave the house for some reason? Should your dog have to stay dirty? Of course not!
Keeping a supply of the best hygiene and grooming supplies on hand will help you keep your German Shepherd clean and happy. But how do you choose the right grooming products for a German Shepherd with so many on the market?
Don't worry! We've got you covered once more. Below we'll go deep into grooming and doggie hygiene, how to do it properly, when, and using which products.
Click Here to Jump to a Section
Why Do German Shepherds Need to Be Groomed?
German Shepherds have a thick, double coat or fur that will require some effort to keep clean and tidy. That's a no-brainer that you'll see on websites and in other publications about dogs. Yet, few websites and books go into detail about why a dog should be groomed. We're here to remedy that right now.
Grooming Improves the Health of Your GSD
Regular grooming can be a big help in keeping your German Shepherd healthy. It may seem strange to think that brushing your dog can do more than just make her coat shiny, but check this out.
When you groom your dog, even just a simple brushing, you're stimulating the skin and hair follicles on her body, which in turn can help blood flow and release endorphins—the feel-good hormone—for your dog. That makes a happy, healthy pup.
Besides, it's really important to keep your GSD brushed. Matted hair is not only unsightly, but it can be painful for your dog. Leave matted fur long enough and it will begin to cause tears in your GSD's skin, which can lead to infections.
Grooming Helps You Spot Trouble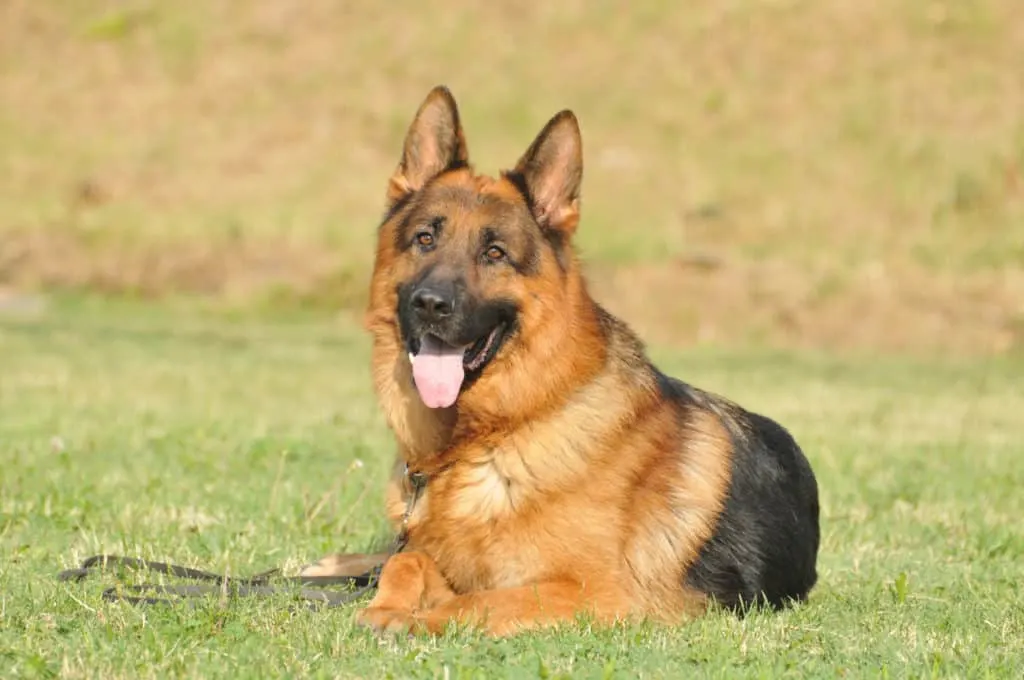 Even more important than making your dog feel good is the fact you'll be able to spot trouble areas more easily while you groom. During bath time, for example, you'll be able to see your dog's skin much easier and you may notice red patches or irritated skin, injuries, or small growths.
This is a good time to check for fleas or signs of flea activity, tics, or other parasites, too. It's also prime time to check those adorable, furry, upright ears for infections, mites, or foreign objects.
Grooming Helps Identify Invisible Issues
Grooming is a hands-on job, which means you'll be able to feel your GSD's body, not just using your eyes. This is a great opportunity to notice any lumps, bumps, or abnormalities before they get too bad. It's also the best time to check for sore spots or places where your German Shepherd seems uncomfortable when you touch.
Grooming Keeps Your House Clean
We all know that dogs can be messy housemates, but that mess level can be drastically reduced just by regular grooming. When you take the time to brush, bath, and pamper your German Shepherd, you're removing dirt, grime, outdoor allergens, dander, and loose hair that would otherwise be spread all over your house.
Grooming Helps Bonding
Any time you spend with your German Shepherd will result in a stronger, more stable bond. But grooming is a particularly sweet time to grow closer with your pooch.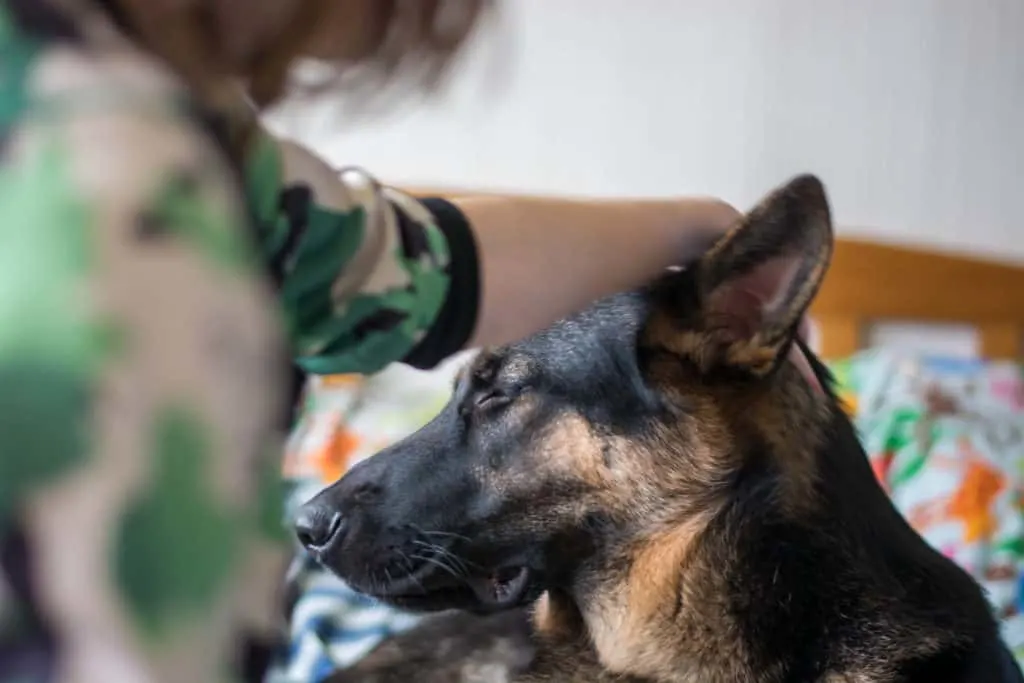 All that attention, the warm water, the head scratches, and your soothing voice will all work with those endorphins we mentioned above, strengthening your bond and making your GSD feel like the luckiest pup on the planet.
Grooming Keeps Your GSD Beautiful
Of course, sometimes it's all about appearances. There's nothing quite as sad and a bedraggled GSD who hasn't seen a brush in months. Grooming your German Shepherd will keep his fur shiny and healthy, his teeth clean and strong, and his nails trimmed and neat
What Makes a Good Grooming Product for German Shepherds?
That's all fine and dandy; grooming is good for your dog, your home, your family, and you. But how do you know what products to use? Should you get the most expensive? The stuff made with the newest and coolest scientific backing? Something fancy and organic?
The answers might surprise you. While some expensive products might be the best choice for one dog, the lower-priced stuff might be the best choice for another. It really all boils down to these factors.
• Your specific dog's needs should be paramount in your hygiene product selection.
• Cost should be a consideration when choosing grooming supplies.
• Reviews are important, but take them with a grain of salt.
• Nontoxic and pet-safe products only.
What Parts Need to Be Groomed?
The whole dog needs your attention, not just a quick brush of her coat. Once you get the hang of it though, grooming once a week can go quickly and efficiently, so don't think of it as a major waste of time.
Pay attention to your dog's fur, including the undercoat; trim her nails, including the dewclaws if your GSD still has them; clean his ears; wipe around her eyes, and you may want to consider learning to care for your dog's anal glands.
However, many owners aren't comfortable expressing anal glands, so it's okay to leave this up to your groomer or your vet.
Best Hygiene and Grooming Products for German Shepherds
A great place to start your grooming supply collection is a book teaching you how to do it quickly and easily. Choose something written by someone with plenty of experience in the industry and a lot of knowledge about dogs in general.
Bonus points for any books or instructions that are specific to GSDs, but any good grooming book about dogs will get you started out on the right paw.
This book by Jorge Bendersky, a celebrity dog groomer based out of New York City, is a good place to start. It teaches the basics and some advanced stuff, too, if you're feeling adventurous.
Brushes for German Shepherds
After you get a book or two and learn the basics of grooming your German Shepherd, your next purchase should be a variety of brushes and combs.
These tools help to keep your dog's coat shiny, clean, and free of debris. They're an excellent way to remove shedding fur and to get deep down into your GSD's thick undercoat, if she has one.
Hertzko Self Cleaning Slicker Brush
A slicker brush is an essential grooming tool if your GSD has an undercoat. These specialized brushes are able to reach down past your dog's smooth coat to the fluffy, fine hairs underneath. Without proper undercoat maintenance, your GSD could end up with painful mats that can tear his skin and cause infections.
The Hertzko Self Cleaning Slicker Brush stands out from the crowd because of the one-click cleaning button. It can be hard to get all the hair out of standard slicker brushes, but this one lets you dump all that collected hair in one easy push of a button. No more picking tiny hairs out of your brushes, folks. This baby takes the prize for ease and convenience.
This slicker brush also does a great job removing dirt from the top coat, undercoat, and even the stuff that gets down deep to skin level. It can help remove dander as well, which is a great relief for allergy sufferers.
It's even got a cool comfort grip handle that looks snazzy and feels great in your hands.
HandsOn Pet Grooming Gloves
If you like things a bit weird-looking but super handy, and you don't mind our pun, check out the wacky HandsOn Pet Grooming Gloves. While these gloves may look a bit strange, they're actually pretty darn clever.
To your dog, it'll feel like you're petting her and massaging her with love. While that's true, you'll also be brushing her coat and removing all the itchy things and dirty bits that can make her uncomfortable.
These gloves are surprisingly good at removing loose hair, even those fine undercoat strands that like to get trapped. It's also a wet and dry option, so you can use it in or out of the water.
If you're worried about hurting your dog, don't be. The nubs on the palms and fingers are rounded, safe, and feel great to dogs. They are non-abrasive and flexible. They also work great for your dog's whole life—from puppyhood to the senior years!
They won't slip off your hands, and they come in a variety of sizes, too. They are super simple to clean as well, so you'll get to spend more time loving your dog and less time maintaining your grooming supplies.
PawsPamper Extra Wide Undercoat Rake
Removing your dog's matted or loose undercoat is pretty important, so we're including a few options here. This particular undercoat rake looks menacing, but it's totally safe to use and will help your dog's coat really shine.
We like this undercoat rake because it comes with the options of 13 blades, 20 blades, and some combo options, too. It's also one of the best full-tang rakes we've tried. That means this tough little number if built to last. And with the extra-wide design, it'll get the job done faster and more efficiently than smaller rakes.
What could be better than all that? Well, PawsPamper has more surprises for you! They are so confident in this product that they offer a no questions asked return policy.
A direct quote: "You Can Request a Full Refund Anytime and It'll Be Granted. Not Only That, We'll Send You a FREE Replacement If Yours Isn't Working." That is nearly unheard of for this kind of product, so definitely keep this company in mind when it comes time to purchase.
Bathing Products for German Shepherds
The following items are our top picks for soap, shampoo, conditioners, and other things designed to be used with water. These will be best used in the bath or out on the lawn on a hot day in a kiddie pool.
LuxPal 2 in 1 Bath Brush
This neat little device helps you keep your hands free and bath time uncluttered. Unscrew the cap, pour in your dog's favorite shampoo, replace the top, and begin massaging away the dirt, grime, and loose hair.
The soft, flexible bristles help create a luxurious lather with the button-controlled shampoo dispenser that can reach down deep under your pet's fur, right to the skin.
There's a switch on the bottom, too, in case you want to just use the brush and not dispense any shampoo.
We like this brush because it's a sturdy tool that keeps your comfort in mind as well as your dog's. It's easy to hold, even when slippery and wet. The non-slip hand grip is pretty useful in even the sudsiest situations.
Veterinary Formula Clinical Care Antiparasitic & Antiseborrheic Medicated Dog Shampoo
The name of this shampoo is quite a mouthful, but it works like a charm. Not only will your German Shepherd's coat be shiny, healthy, and clean after using this shampoo, but your pup will also be protected from a host of parasites, infections, and skin problems. It'll also help heal and soothe any issues already taking root.
It can treat and help prevent, "… inflamed scalp, greasy or waxy skin, red skin rashes, bald spots, itch, and flaky skin associated with dermatitis, mange, seborrhea, parasitic, and bacterial infections."
This shampoo is best used 2 – 3 times per week for active infections and issues. Weekly use or twice a month may be suitable for healthy skin and coats for maintenance.
Because it is dye-free, has no parabens, and is soap-free, it is gentle and effective. It helps hasten the healing of dried, irritated, cracked skin. And it's is a soothing addition to weekly baths.
Burt's Bees All Natural Oatmeal Shampoo & Conditioner for Dogs
This popular dog shampoo and conditioner earned its reputation by providing high-quality, effective, and soothing bath time cleansing. Made with oatmeal, Burt's Bees shampoo and conditioners are tear-free, non-irritating, and safe for puppies, senior dogs, and every age between.
This is an excellent weekly cleanser that works hard to keep your German Shepherd's coat clean and shiny, while providing essential care for soft, healthy skin. There are no fragrances, even though the shampoo and condition both smell quite nice. There are no harsh sulfates or colorants either.
Important note: Because this product is made of all-natural ingredients, it won't have that super soapy and bubbly lather you may expect. This is actually a good thing!
Those bubbles in other products come from harsh chemicals that are only added to create bubbles. The bubbles do not indicate cleaning ability whatsoever! This non-sudsing formula is made with healthy, safe, non-toxic ingredients designed to nourish your dogs' coat and skin at every step.
ColorYLife Dog Towel
You could use a regular towel to dry your German Shepherd off after a bath, but why would you when you could use this super absorbent and pamper-worthy microfiber super shammy?
Made with ultra-absorbent microfiber, these soft and luxurious pet towels are made for fast drying and soothing rubs.
They absorb much more water than standard human towels, and they are machine washable for frequent use, too. And guess what? This towel is designed with two hand pockets to make it easier to get in there and rub, dry, and caress your GSD!
Nail Care for German Shepherds
Caring for your GSD's nails should be a weekly grooming task. Long nails can be harmful to your home and painful to your dog. Keeping those nails trimmed and filed will make everyone happier and more comfortable.
Casfuy Dog Nail Grinder
This rechargeable nail grinder will make nail care chores a snap! The fast grinding action is safer than standard nail clippers, and won't split, crack, or peel your dog's claws.
The advanced Diamond Bit Grinder is designed to make nail care routines fast and simple, while the portable design means you can bring this with you on trips.
Some pet parents are worried about the noise a tool like this will make. This is one of the quietest nail grinders we've tried. It's also fairly low on vibrations, which makes it less scary for dogs just starting out with a nail grinder.
It will take some getting used to, but once you learn to use this claw grinder, you and your GSD will wonder how you ever got along without it!
It's also pretty adjustable, which is unusual for a grinder in this price range. It comes with an adjustable speed from low to high. It also has three ports: small, medium, and large, to work with your GSD throughout her whole life.
BOSHEL Dog Nail Clippers and Trimmer with Safety Guard
For our low-tech readers, we've selected a manual nail clipper from Boshel. Ergonomically designed, this nail clipper has comfortable handles, ultra-sharp blades, and a safety shield to be sure you don't cut too far. There's even a nail file tucked into one of the handles so you can file down sharp edges.
A word of warning about all manual nail clippers: Dull blades can cause serious damage to your dog's nails. Cracks, splits, and peeling can cause injury and infection in soft tissues. Be sure your nail clippers are sharp! You never want to crush the nail. It should cut smoothly and without much pressure.
Miracle Care Kwik Stop Styptic Solution
No matter how careful you are cutting your German Shepherd's nails, accidents are bound to happen. Don't panic if you cut too far and see some blood! While it is painful for the dog and a bit of a shock to the humans, it's not the end of the world. Use Kwik Stop to get that blood clotting fast and help prevent infections.
This product comes in gel, powder, swabs, and pads. We like the powder because it's a classic, proven solution to the problem. However, all the products from Kwik Stop are top-notch, so choose which style works best for you.
Styptic solutions are designed to quickly stop blood loss from minor cuts and abrasions, promoting quick clotting. This particular brand also includes a pain-numbing Benzocaine to bring fast relief to your sweet pupper.
Ear Care for German Shepherds
Many people forget to check their dog's ears during bath time and brushing time. This is a huge mistake! Ear mites are tiny parasites that can dig in deep and cause major problems for your precious pup.
Sometimes foreign material can get lodged in a dog's ear canal, and there's always the risk of waxy or dirty build up collecting there to cause ear infections. These products are designed to keep your pup's ears clean and fresh.
Pet MD – Dog Ear Cleaner Wipes
One of the easiest ways to keep your dog's ears clean is to use special ear wipes. We like this brand because it's a name we trust and it comes with a lot of happy reviewers.
In our trials, we've seen these wipes take on some of the toughest and grossest ear problems ever, all without getting our hands messy or hurting our furry babies.
These otic cleanser wipes are designed to safely and effectively wipe away dirt and grime, natural oily buildup inside the ears, and can even help reduce the chance for yeast or other infections to take hold. The pleasant aloe vera and eucalyptus blend is a nice touch of soothing and good-smelling, too.
There are 100 wipes in this generous pack, so you'll have enough wipes for 50 grooming sessions. Remember to use one wipe per ear. This will help reduce the chance of spreading infections from one ear to the other.
Virbac Epi-Otic Advanced Ear Cleaner
A standard ear cleaning solution, Virbac's Epi-Otic is a fan favorite for keeping German Shepherd ears clean, fresh, and healthy. This alcohol-free solution has a long, trusted, and proven track record, and tons of happy reviews to prove it.
We like the fresh, clean scent, but even more important is the ease of use and the comfort for our dogs. The low pH keeps things balanced inside the ear canal, and the special drying properties of this solution prevent the buildup of excess moisture that can harbor bacteria and yeast.
This is an excellent choice for allergy-sensitive dogs, those with sensitive skin, and those prone to ear infections. It's a safe, gentle cleanser that actually prevents microorganisms from sticking to your dog's skin! That's some cool science in this little bottle.
Eye Care for German Shepherds
Another often overlooked part of grooming is caring for your GSD's eyes. While we're not about to tell you to rub his eyeballs with a polishing rag, we do want to point out the tear stains. It's totally normal for a GSD to have some tear production to keep their eyes clean and moist. But those tears sometimes can leave stains on their fur. While not dangerous on their own, leaving these stains in place could encourage bacterial growth over time.
TOULIFLY Pet Tear Wipes
These tear wipes were specially formulated to be gentle on your dog's skin, coat, and for use around her eyes. Try not to get them in your dog's eyes, of course, but you can carefully clean up those tear stains with a wipe once a week or so to keep your pup's face and snoot clean.
These can also be used on other areas of your dog's body to quickly clean up spills, dirt, muck, and saliva.
The ingredients are: RO pure water, Aloe vera, Non-woven fabric,Hexadecylpyridinium Chloride Monohydrate, Bronopol 0.01%, PhenoXyaethanolum 0.8%,Tween-20, Citric Acid/Trisodium citrate dihydrate, Surfactants and functional additives.
Special Grooming Considerations
While we've covered a lot of great products here for general use, there are always special considerations to keep in mind. Things such as age, gender, and health issues can cause even the gentlest basic products to stop working for some dogs. In those cases, there are great specialty products to help you keep your GSD clean, happy, and healthy.
Age
Not all products will be safe for all ages of dogs. Pay special attention to ingredients and instructions that specify age ranges. Puppies and senior dogs are especially prone to adverse reactions to many otherwise safe products. If you're unsure, ask your vet!
Gender
While gender may not play as big a role in grooming as one might think, there are special considerations to keep in mind. For example, a female in heat may need a different type of coat care or bathing routine. Males who spray more often than others may need stronger shampoo or to have special care taken to remove urine from their bellies or legs.
Purpose
Another aspect to keep in mind when you purchase grooming supplies for a German Shepherd is what the dog's purpose is. Obviously, they are there to be loved, but a working dog will need different grooming supplies than a show dog.
Allergies
Sometimes, allergies may play a big part in what products you can use on your GSD. That may be the dog's allergies to certain products, or your allergies. Once you discover an allergic reaction in your household, it's time to look at different products to help mitigate those allergies for the dog or the human, or even eradicate the allergens altogether. There is a wide range of products on the market today for all kinds of allergy situations. Don't be afraid to ask your vet for specific recommendations.
Illness/Injury
Sometimes, your pooch may have a small injury or a minor illness that you can begin safe, effective, self-treatment at home until you can get to the vet. In cases of very mild issues with noses or paw pads, you may wish to try a support treatment such as 4Legger Nose and Paw Pad Healing Balm. This soothing ointment can help relieve pain or discomfort from cracked, dry paw pads, noses, elbows, and other areas.
What About Using a Professional Groomer?
With all these supplies available to do your own at-home grooming, you may be wondering if professional groomers are even necessary. The answer is a resounding yes!
There is something special about sending your dog to be professionally groomed once or twice a year. This is the time to have her anal glands cared for, a deep cleaning and undercoat care, professional nail trim, and meticulous attention on every part of your dog.
You can even take your dog monthly for grooming sessions if it's within your budget. Professional groomers are the cornerstone of your dog's appearance and may even be the front-line defense against hard-to-see health issues.
These pros are trained to recognize subtle signs of illness, injury, and allergies and to inform owners right away.
Final Thoughts
There's a little something here for every dog, every owner, and every type of grooming session. We hope you've been inspired to try grooming your German Shepherd at home. It can boost your confidence as a pet parent, and it will definitely help strengthen your bond with your German Shepherd. Besides, grooming dogs is just plain fun!