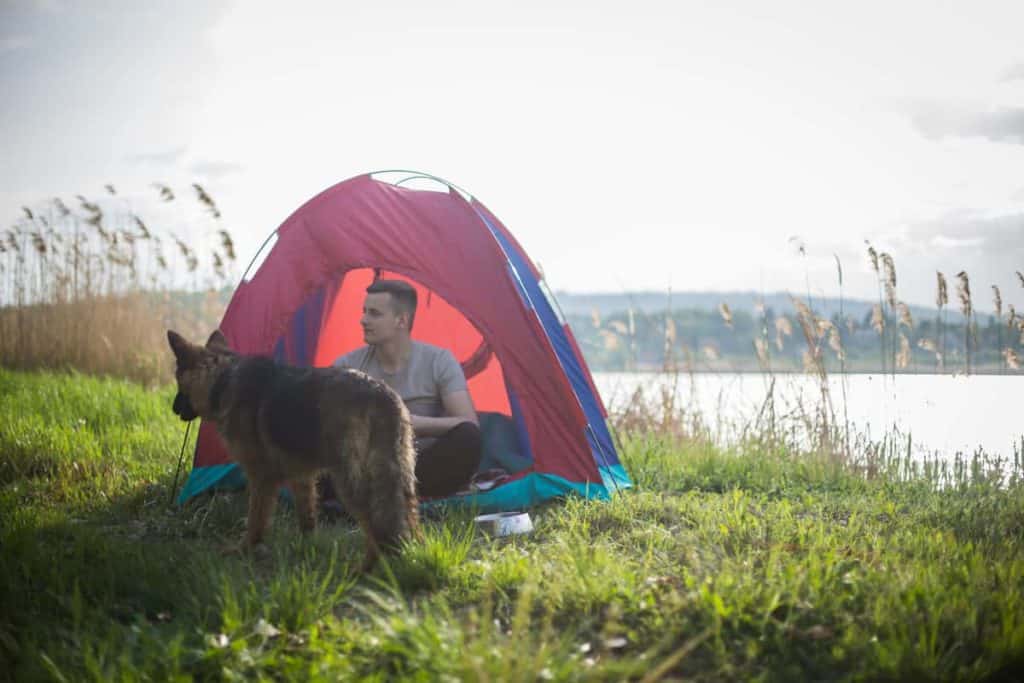 The smell of a wood fire, a clear view of the night sky, a cool breeze and the lullaby of cicadas is just a glimpse into a typical night of camping. It is little wonder why this past time is consistently gaining popularity amongst people of all ages and backgrounds.
The latest statistics show an exponential increase in not only people participating in this recreation but also the frequency in which they camp.
According to the North American Camping Report, 6 out of 10 households have at least one person that camps. And roughly half of surveyed households own at least one dog.
German Shepherds have consistently been one of the most popular breeds in North America, so the intersection of camping with this breed is inevitable.
The campground industry is paying attention to the upward trend of camping with dogs and accommodating them more often, making the experience that much better for those of us that want to include our loyal companions.
Camping with dogs and more specifically German Shepherds, does require thoughtful planning and preparation.
Finding a Dog-Friendly Campground
Once you have a destination in mind, the first step is finding a dog-friendly campground. An internet search for dog-friendly campgrounds in the area is a good start but it isn't always comprehensive. Here are a few websites that can help you to narrow down appropriate campgrounds:
Once you find a suitable facility, locate their website and their official pet policy. While many may list themselves as pet-friendly, this doesn't always equate to "German Shepherd Friendly."
Many campgrounds will often have breed-specific limitations and German Shepherds make the restricted list more often than not. Other facilities will have blanket restrictions on size or weight, but most will opt for weight as it's far less debatable.
The most frequent weight cut-offs are 20lbs or 40lbs, respectively. These limitations are far more prevalent in private campgrounds and resorts due to insurance risk.
State and national parks are generally much more friendly to larger breeds and typically don't have breed restrictions. The following websites will help you to locate state and national parks:
A few often-overlooked gems are found at county parks, which can usually be found by searching for the specific county's parks and recreation department.
Once you find a campground that will accommodate your German Shepherd, it is strongly recommended that you call the camping facility directly to make certain that their pet policy is still the same as before you made reservations.
It can take a little more research to locate an appropriate campground that has the amenities you are looking for and accepts the breed of your dog but it is well worth the investment of time to secure a great experience.
Considerations As You Plan Your Trip
Know Your Dog
We all know that German Shepherds are active, loyal and intelligent but knowing your dog's individual idiosyncrasies and behavior tendencies are key.
Be mindful if your GSD is reactive to strangers or other dogs because there's a good chance that you will run into both while camping. Planning ahead and preparing for potential situations can make or break your experience.
Know The Rules
Just about every place that you can camp has general rules along with specific rules for pets. Familiarize yourself with them both as a barking dog at midnight could break the "quiet hour" rule and your 20ft tracking leash could break the 6ft leash requirement.
You can absolutely be asked to leave if you or your dog's behavior is not in line with the rules.
Research Activities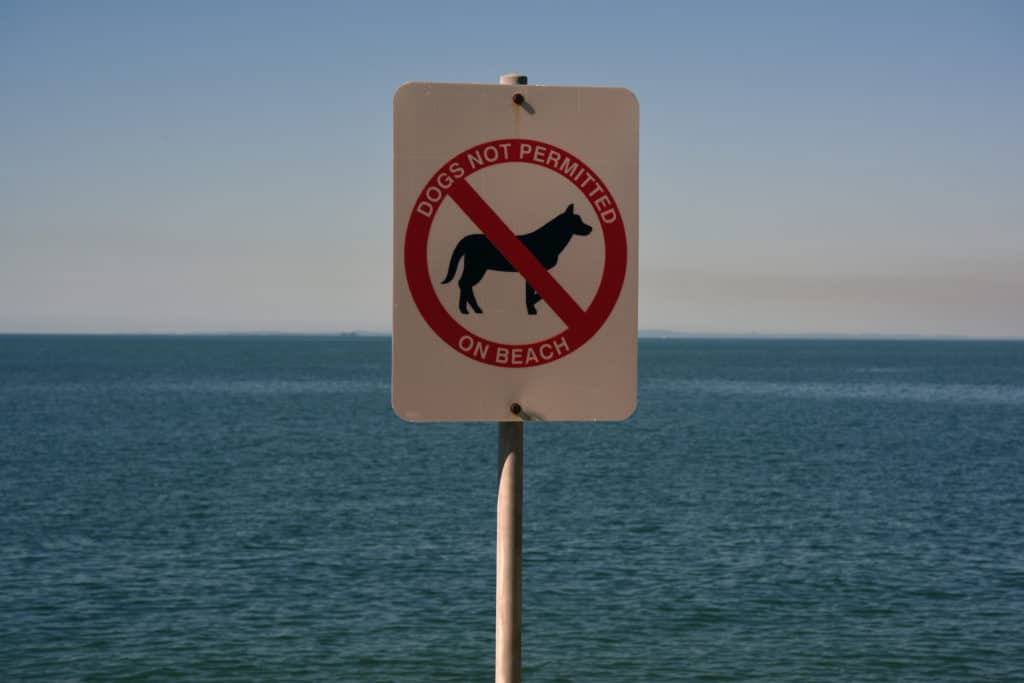 Hiking, fishing, kayaking and so many other outdoor activities are often on the agenda for a weekend of camping and it can be incredibly rewarding to enjoy these activities with your dog. What you may run into, however, is rules about where you can have your dog outside of the campground or nearby areas.
Here's a perfect example: You find a campground that is dog-friendly and right near the beach, so you plan on spending a day fishing and swimming while you're there, only to find out that the beach isn't dog-friendly.
So you scrap that idea and decide to rent a kayak nearby, only to see a huge "NO DOGS IN WATERCRAFTS" sign when you walk up.
Defeated, you opt for a hike, gear up and see the "NO DOGS ON TRAILS" sign at the entrance of the wooded trail. This may sound like an exaggeration but this is something that has happened to many campers, including myself.
A little bit of research can save you a great deal of grief when it comes to your options for activities that you can do with your dog.
Additional Considerations for Camping with Your German Shepherd
Containing Your Dog
Having proper containment is a necessity. In the event that you should have to leave your German Shepherd at the campsite, the safest option is to bring a crate and place it inside of whatever you may be camping in.
Tethers are an option but not the most ideal given the average size of a GSD and the explosive power they have. Not only may that option fail, it could also injure the dog under the right circumstance.
Most crates are portable and fold down for easy storage and travel. There are so many options available from soft-sided to wire and are available at many price points. An old favorite, the Vari-Kennel, can still be taken apart and the top set inside the bottom for portability.
Additionally, if the dog is well mannered, exercise pens are also appropriate outdoors. Just like a crate, there are many options available in several sizes and price points.
While exercise pens can be fastened together to make a larger exercise area, just be mindful of campground rules, as some prohibit or limit the use of them. To prevent any issues, be diligent in reviewing campground rules and talk to the appropriate person in charge if the rules are unclear on this matter.
It's safe to assume you may need to leave your dog at some point, if only for a few minutes. Bathhouses, bathrooms, and other facilities do not allow dogs inside or tethered right outside of the building, so your dog must be properly contained in your campsite.
Also, make sure that your dog is microchipped or is wearing proper identification in the event that he or she gets loose or wanders away and gets lost.
Your Dog's Behavior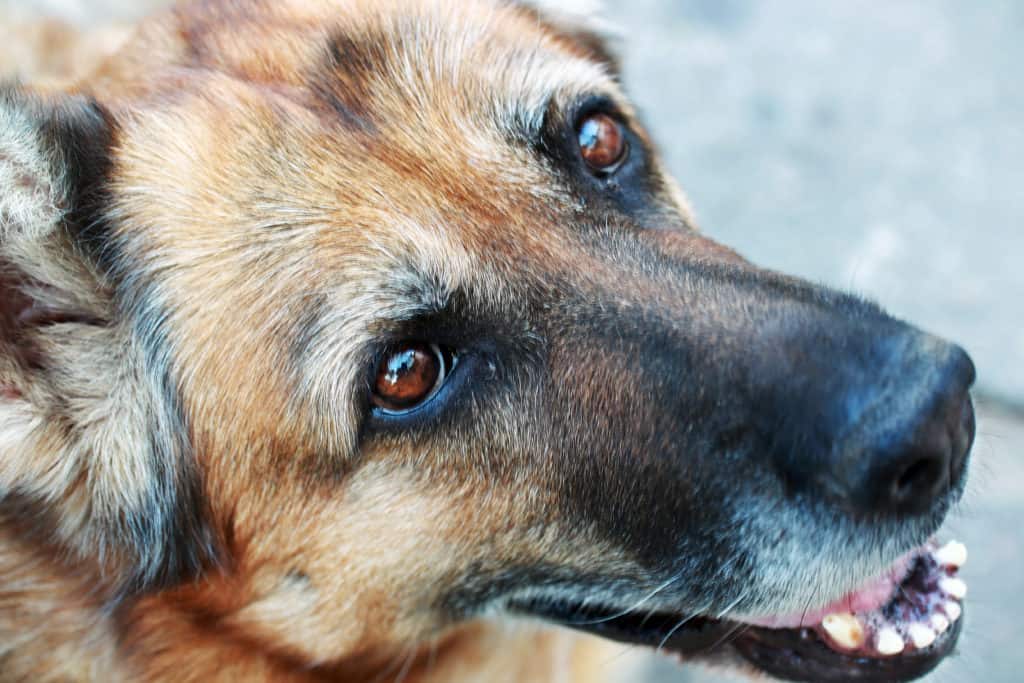 German Shepherds are known for their often vocal reactions to things they are sensitive to. This, along with confident or sometimes nervous physical expressions can be intimidating to people who don't know the breed or don't understand how to interpret their body language.
When you take your dog out for a walk or participate in any type of activity, any visceral reaction to another person or dog can prompt a complaint from other campers. (Never mind that their own little furball is dancing at the end of their leash, yapping and snapping at anything that moves!).
This is where it can get really frustrating for German Shepherd owners. Aggressive behavior is something that is so often not defined well or at all in the rules and is commonly up to a single person that may or may not have witnessed any event in question.
I've not seen a pet policy yet that doesn't cite aggressive behavior as a means to dismiss dogs from the grounds. Many rules cite nuisance behavior as well, which could mean anything from barking excessively to running loosely through the campground.
This is where German Shepherd owners will occasionally experience prejudice against the breed over misunderstood or poorly managed behavior.
The best defense is a good offense in this case, which is plenty of training and due diligence to control any undesired behavior or situations that could stimulate a reaction from your dog.
If your dog is super reactive, finding a more private setting may be a better idea. You can search for private land available for camping at:
Your Dog's Food
Wildlife around camping areas tend to be emboldened by the availability of food and the often successful missions to get a free meal from an inexperienced camper. Dog food is a favorite and should be kept in a locked vehicle or a heavy-duty locking bin.
If your dog is being fed, make sure that any leftover food is picked up right away. Where possible, bring extra food and keep it in a different location than the rest of the food, especially if your dog is on a special diet.
For example, keeping the majority of food in your camping trailer and then some locked in your towing vehicle is ideal. In the event that something happens to one or the other, you would hopefully still have some food to get by with.
While we are on the subject of food, I'll mention that dehydrated or freeze-dried dog food is often brought a popular choice among campers and it is indeed a great alternative to the bulkier kibble or raw diets when storage and handling is an issue.
However, if it's not a diet the dog is already on, then it's not a good idea to suddenly change diets just to make food storage more convenient while camping.
Temperature and Weather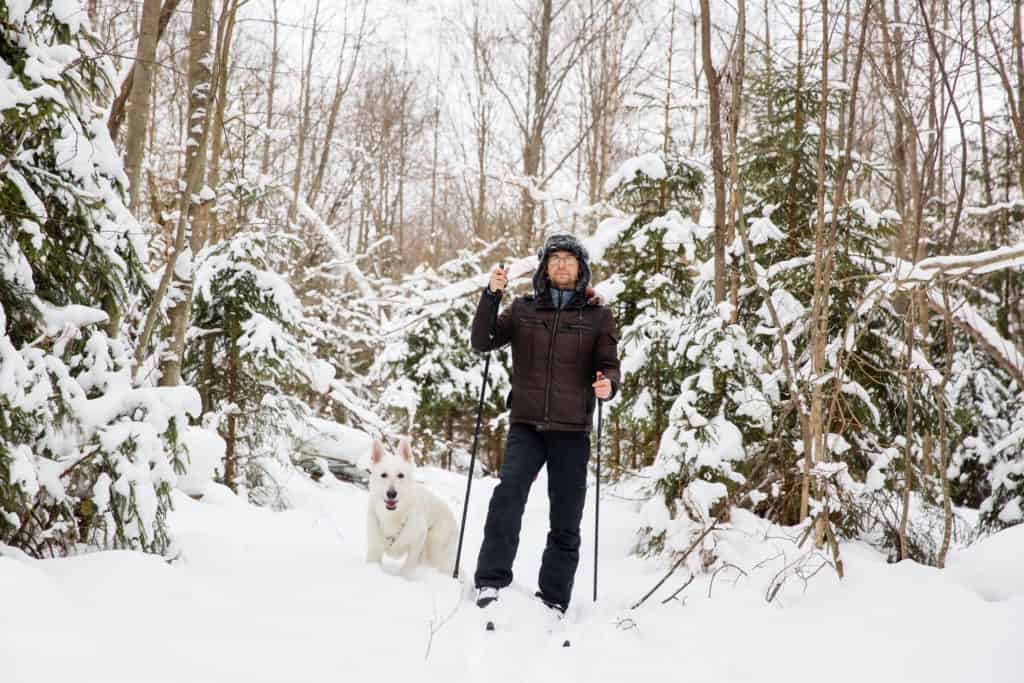 These are two things that should always be taken into consideration if you're going to be spending any extended period of time outdoors.
German Shepherds can withstand a considerable amount of cold and an impressive amount of heat for a dog of their size and coat thickness, but there's definitely a limit and there is a big difference between withstanding temperature and being comfortable.
Be mindful of the conditions you will be camping in, the way in which you are camping, the activities you might participate in and how the needs of your dog may come in to play.
Having things like pad wax and booties for the snow or a cooling vest or hydration pack in the heat can make all the difference for the experience and comfort level of your dog.
Area Concerns
If you are traveling to an area that is unfamiliar to you, take a few minutes to research any dangers that may be present and preventable.
For instance, if the area you might be camping in is known for ticks and tick-borne illnesses, make sure your dog has any available vaccines and is on flea and tick prevention. It's always a good idea to use flea and tick prevention anytime you go into a wooded area.
If the region has seen a surge in bear population or encounters, pick up bear spray or employ other deterrents. An ounce of prevention is worth many pounds of cure in these situations.
Choosing the Right Products
This is where I call upon the experience and expertise of others and you should too. Find a local breed association or breed enthusiast group and reach out to members that might live in the area that you are traveling to.
Ask them for recommendations of products they use for their own dogs while partaking in the activities that are on your agenda. You will find that they are full of great advice and are always eager to help.
They can also be invaluable resources for guiding you towards an all-around better experience with your dog in places you aren't familiar with.
Types of Camping: Pros and Cons
Tent Or Car Camping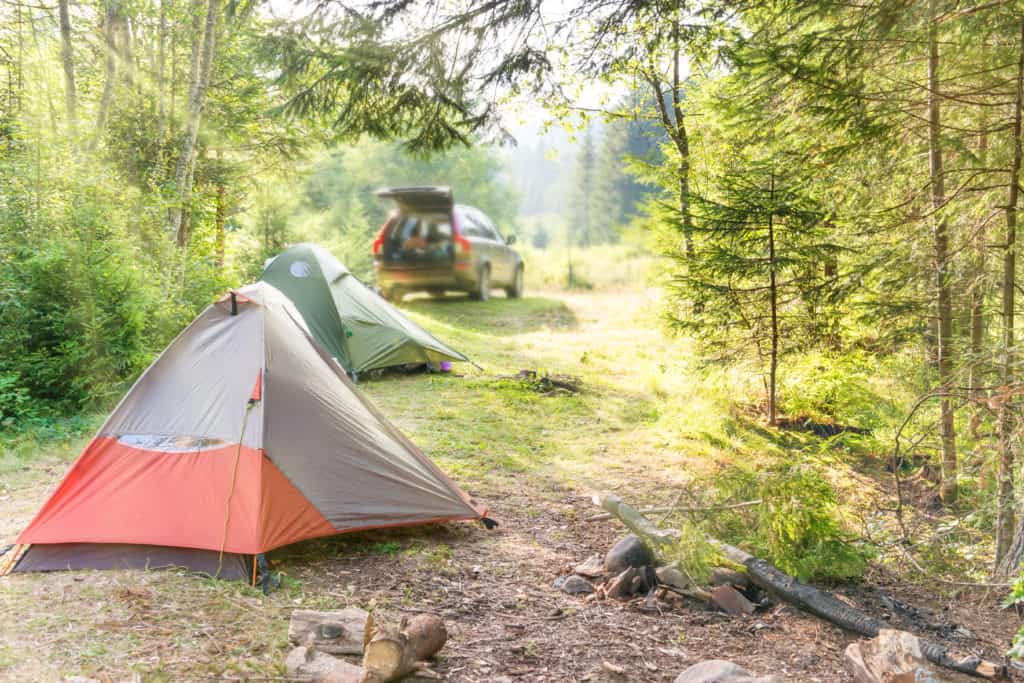 This remains the most popular way to camp and typically one with considerable flexibility, depending on how "unplugged" you're willing to be. Many campgrounds will offer tent campers the use of electricity.
Pros
This type of camping is relatively inexpensive and it's a great way to experience the outdoors and have a really authentic experience. There is more flexibility for choosing campsites and generally more camping opportunities that are dog-friendly.
Cons
This type of camping can make it more difficult to contain a larger dog. More exposure to the elements means more of a challenge to manage temperature control. Sounds are easily heard both inside and outside of a tent, so dogs are more easily stimulated and heard.
Special Considerations
Camping with electricity can be the best of both worlds for a German Shepherd, as you can heat or cool as needed.
Be mindful that electricity can fail and be prepared to have a backup plan if the temperatures are going to be extreme. Products like a cooling vest, battery-operated fans, extra blankets, and foot warmers can be located and easily acquired.
Backpacking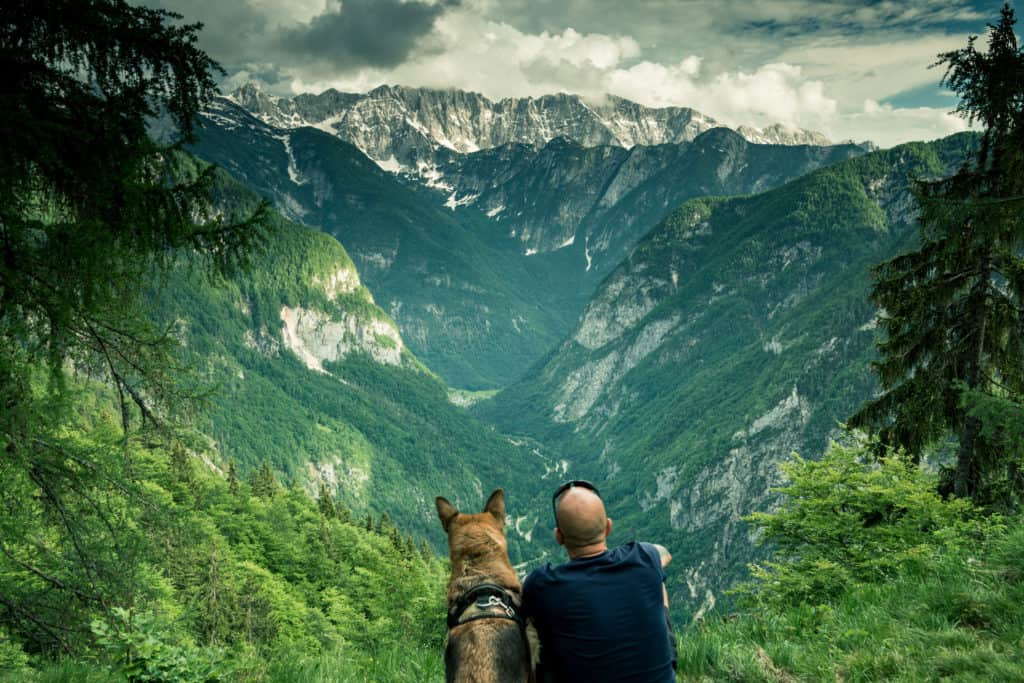 Also growing in popularity is backpack camping, which is quite literally hiking, biking or even kayaking to a campsite and living out of what you can carry in a backpack. This minimalist approach to camping usually means no electric and traveling mostly on foot.
Pros
Camping this rural usually means very little interaction with other people or dogs and there are typically no breed restrictions or rigid rules that must be followed. This is the most immersive, active and "unplugged" camping experience for you and your German Shepherd.
Cons
Extreme exposure to the elements can mean dangerous or uncomfortable situations for you and your dog. You can only bring things that can be carried in and on a backpack, so dealing with containment issues won't be as comprehensive.
You are more likely to encounter wildlife but the wildlife in deep woods are also more likely to be scared. Perhaps of most concern, is the difficulty in which to get help in the event of a medical or veterinary emergency.
Special Considerations
I cannot stress this enough; excessive heat or cold should be considered while planning and special equipment for your dog may be necessary depending on the weather and the terrain.
Trail packs made for dogs can alleviate some of your load and give your GSD a "job", while booties or pad grips can help prevent injury on rough terrain.
RV/Trailer Camping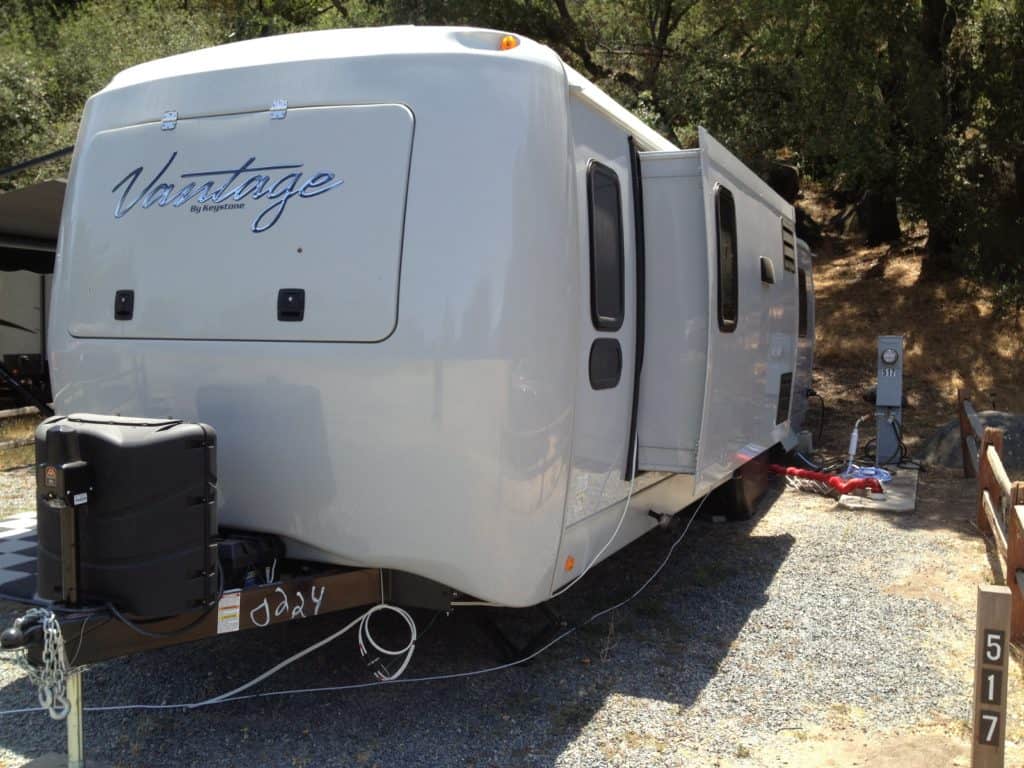 Often referred to as "Glamping" this is the more luxurious approach to camping is essentially having some or all of the comforts of home in a recreational vehicle or tow-behind camper.
They come in all shapes and sizes with varying degrees of amenities, from the basic pop-up to a massive home-on-wheels RV. Even the basic units typically have air and heat, a kitchenette and some kind of toileting system. Larger units can have full bathrooms, bedrooms, and countless other comforts.
Pros
It is much easier to contain dogs because:
They are often more calm because the environment is more controlled.
They have their own space and its easier for you to set up crates or other containment as necessary.
There is the option of temperature control or windows and doors with screens to open when the weather is nice.
You have more control of the experience and can immerse your dog as much or as little to the outdoors based on her health, behavior or reactivity.
There is typically more storage that is safer for food and other accessories.
There is no exposure to the elements and it offers more protection from wildlife encounters.
Cons
Camping in an RV can make it harder to find GSD-friendly campsites. It is also much more of a commitment financially and otherwise (unless you are renting).
Recreational Vehicles can sometimes prompt motion sickness in dogs and it can be hard to secure them while driving and they are much harder to keep clean with tracking in and shedding.
Special Considerations
A common danger that is often overlooked in this style of camping is the failure of electricity or systems in the unit that would then cause the air conditioning to fail.
If dogs are left unattended inside the unit when this failure occurs, they are just as liable to overheat as they are in a car. Special equipment that monitors the inside of the RV by video or digital thermometer is available and can run on WiFi or cellular service.
There is also the issue of navigating stairs in most units that can be difficult for German Shepherds with mobility issues, but a portable ramp can effectively alleviate this.
RV Rental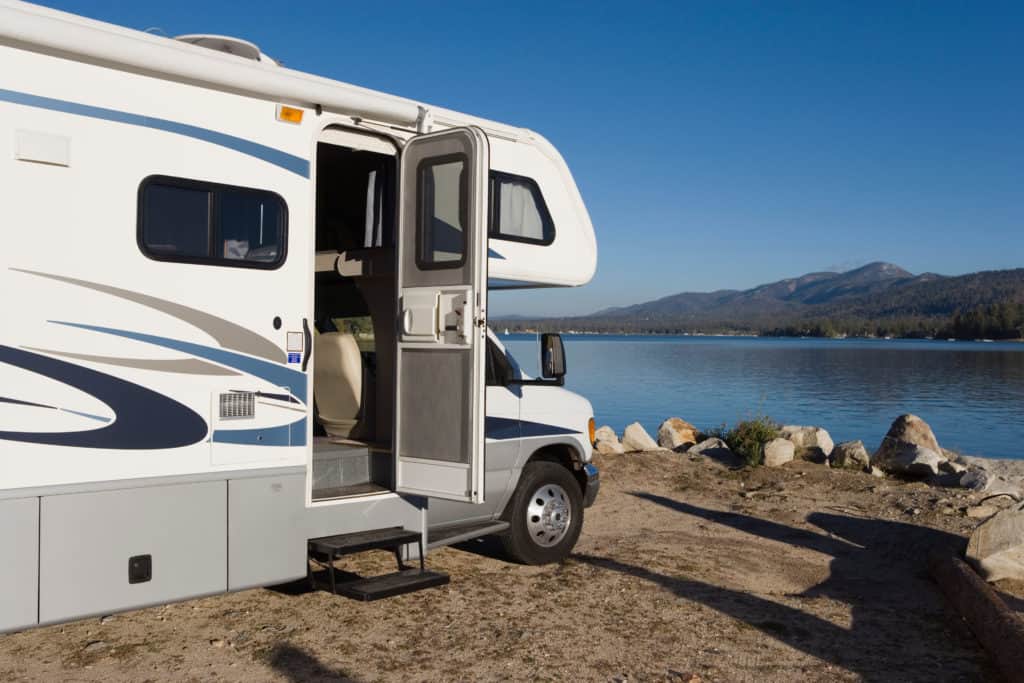 Another option is to rent an RV which can be done commercially or privately. There are a number of websites dedicated to renting RVs and camping trailers that are dog-friendly and only require that the unit be returned clean in order to avoid additional fees.
Here are two websites that facilitate RV rental:
Pros
This is a fantastic way to dip your feet into camping with your dog without making a long term commitment or investment.
Cons
It can be harder to find a campground that is accommodating to larger dogs. It's pricey to rent these and you still have to pay camping fees.
Special Considerations
You really have to keep up with cleaning in these units if traveling with a German Shepherd as expensive cleaning fees will most likely apply if you do not.
Yurt or Cabin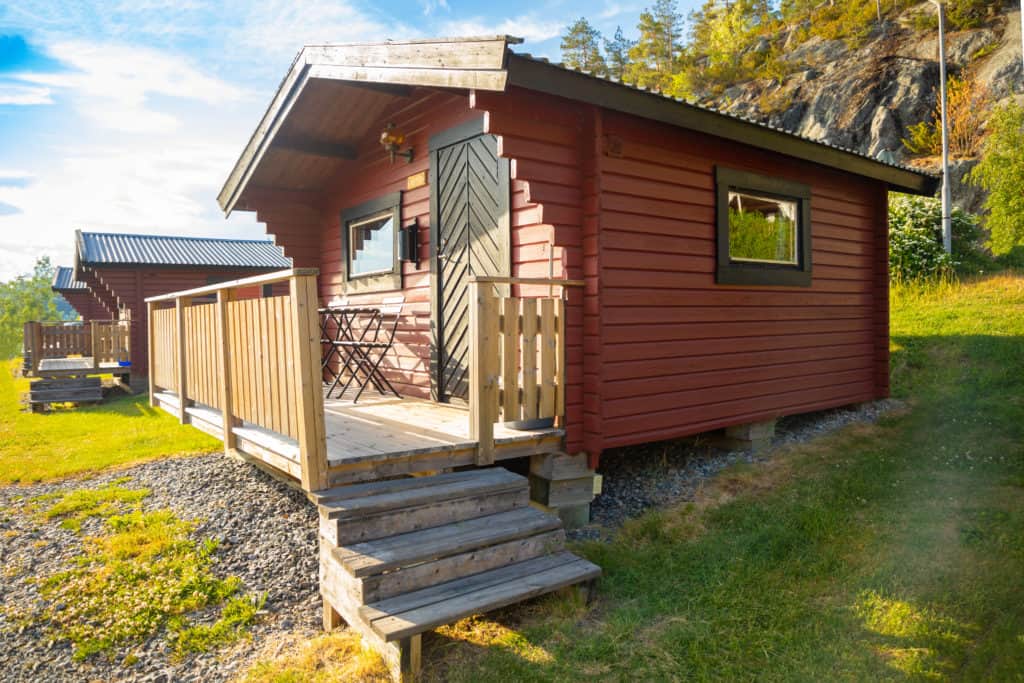 For those not wanting to make a larger financial commitment but still want the camping experience, many camping facilities offer to rent out cabins or yurts. This can be a great alternative to other forms of camping, however, these options are not always pet-friendly.
Both these options have a simple shelter with limited amenities that vary among campgrounds. They may or may not include bathrooms, bedding or kitchenettes so double-check with the facility and plan accordingly.
What to Bring
Once you have an idea of where you are going and what you are doing, all that's left for you to do is pack! Here is a quick checklist of the things you don't want to leave home without.
Food
Water (Bring a few gallon jugs of water your dog is used to drinking from home if possible)
Collapsible Bowls
Poo Bags
Extra collar and leash
A Favorite toy, blanket or kong
Collapsible Crate (when possible)
Any medications the dog might be on
A copy of your dog's vaccination records
A copy of your dog's rabies registration or tag
A first aid kit (see below)
First Aid Kit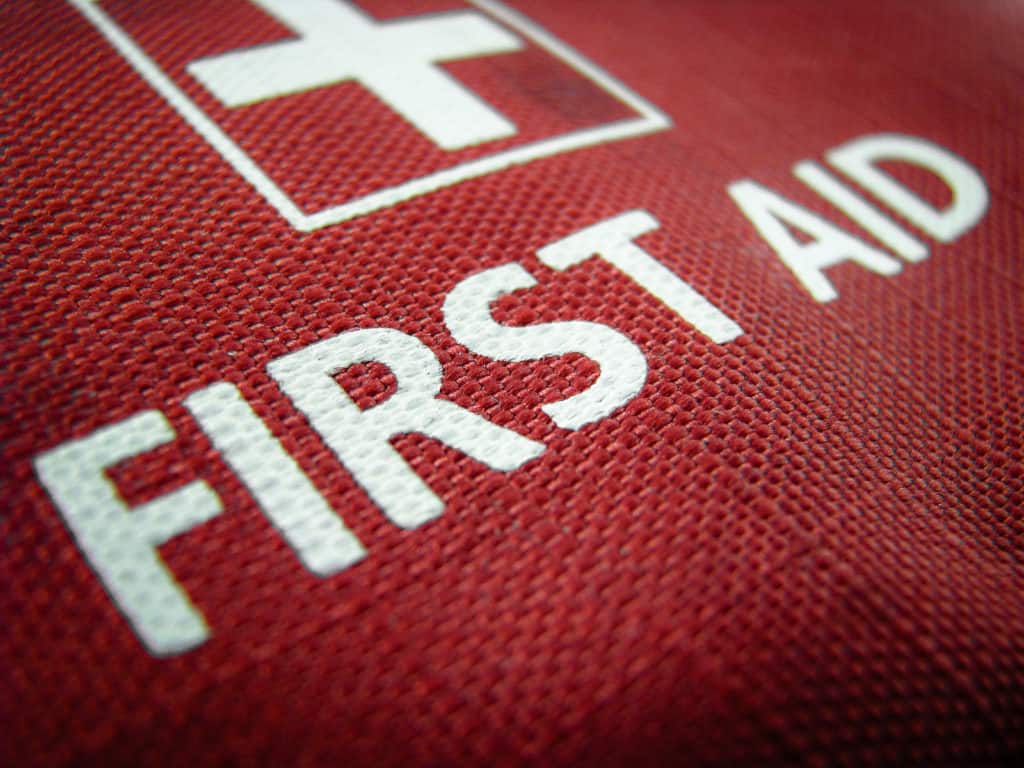 Having a first aid kit for your dog is just as important as having one for yourself. Your dog's kit can be combined with your own to save space, but the end goal is having one comprehensive first aid kit with you at all times.
Once you put it together, you don't have to touch it unless you need it and you don't have to repack it unless you use something. A basic first aid kit for a dog will contain:
Gauze, non-stick bandages, adhesive tape, self-adhesive bandages
Hydrogen peroxide
Antibiotic spray or ointment:
A soft muzzle
Scissors
Tweezers
Digital Thermometer
Magnifying glass
Disposable gloves
Cotton balls or swabs
A towel or blanket
Bottled water
A flashlight
Saline solution or wound wash
Burn relief
Tick removal tool
There are also many options for buying a pre-packed pet first aid kit. Speak to your vet about adding specific prophylactic measures, such as medications for sedation, diarrhea, car sickness, allergic reactions or anything specific to your dog's history or behavior.
For example, some dogs get frightened of thunderstorms, and being in an unfamiliar place with more exposure to the elements than usual can really make them anxious or get them worked up.
Your vet can also provide guidance for the region or the activities in which you plan on participating in and what additional items may be helpful to have on hand.
If you aren't familiar with first aid for dogs, literature can be acquired from your vet or the American Veterinary Medical Association website.
Additionally, the Red Cross has a free "Pet First Aid" app that is great to have on hand for any on the go pet emergencies. You can download the app here.
Also, remember to grab the numbers of local vet clinics near your chosen destination in case of an emergency. Another important number to keep with you is the National Animal Poison Control Center (888-426-4435).

The Ultimate Canine Camping Experience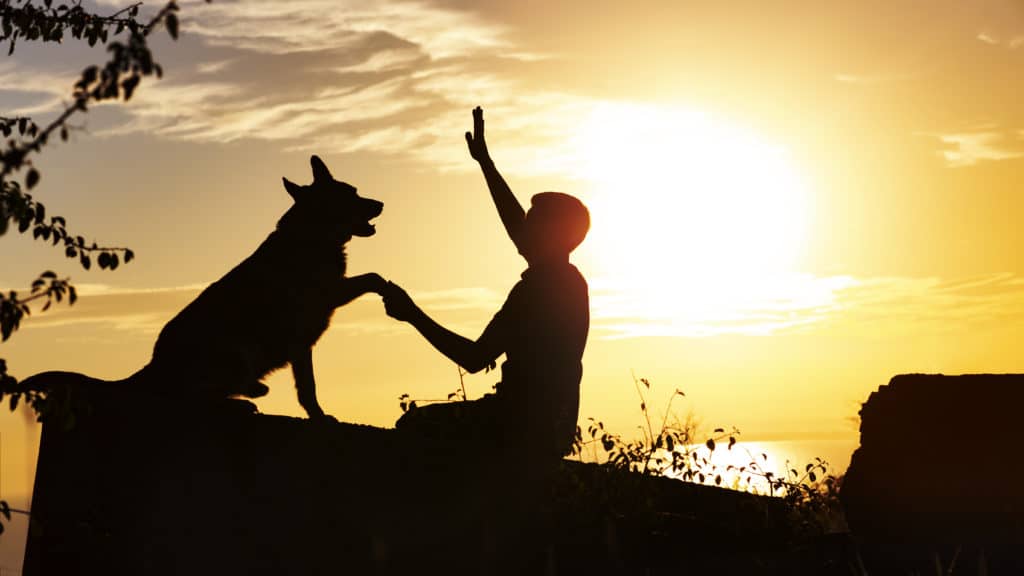 Would you like to go camping in a place literally designed for dogs? 4 Paws Kingdom is a Campground in North Carolina that is centered around the comfort of our canine companions and boasts itself as the nation's only dog-dedicated campground.
Located on 18 acres, the campground has 7 different off-leash parks including a doggy playground, full agility setup and a fenced-in pond that was made for swimming!
There are areas to wash and groom your dogs after a long day of play and dogs are allowed everywhere on the grounds.
If you don't have a means of camping, you can rent one of their cabins or camping trailers on-site. Many of the sites have a private fenced-in area for your dog to roam inside your campsite.
What's the catch? There are no breed restrictions for dogs but there are age restrictions for people. No one under 18 can stay in this campground, so canines and adults only! Check it out (4pawskingdom.com).

Final Thoughts
Camping with your German Shepherd can be one of the most unique, relaxing and rewarding experiences you can have as long as you employ the three P's:
Planning
Preparation
Prevention
View your dog's needs for comfort and safety in the same light as you view your own, and you will set yourselves up for a great experience – which is hopefully just one of many more to come!