Dogs are like smarties; it's virtually impossible to only have one! Labradors are naturally gregarious dogs that typically enjoy the company of both their family members and other dogs.
The 10 best companion dogs for Labradors are:
Cavalier King Charles Spaniel
Greyhound
Irish Setter
Springer Spaniel
Groenendael Belgian Shepherd
Bernese Mountain Dog
Golden Retriever
Pyrenean Mountain Dog
English Mastiff
German Shepherd
We want our dogs to have friends, and many owners dream about getting another dog.
Successfully managing a multi-dog household can be a challenge; the first step to creating a harmonious home lies in choosing a compatible match for your existing Labrador.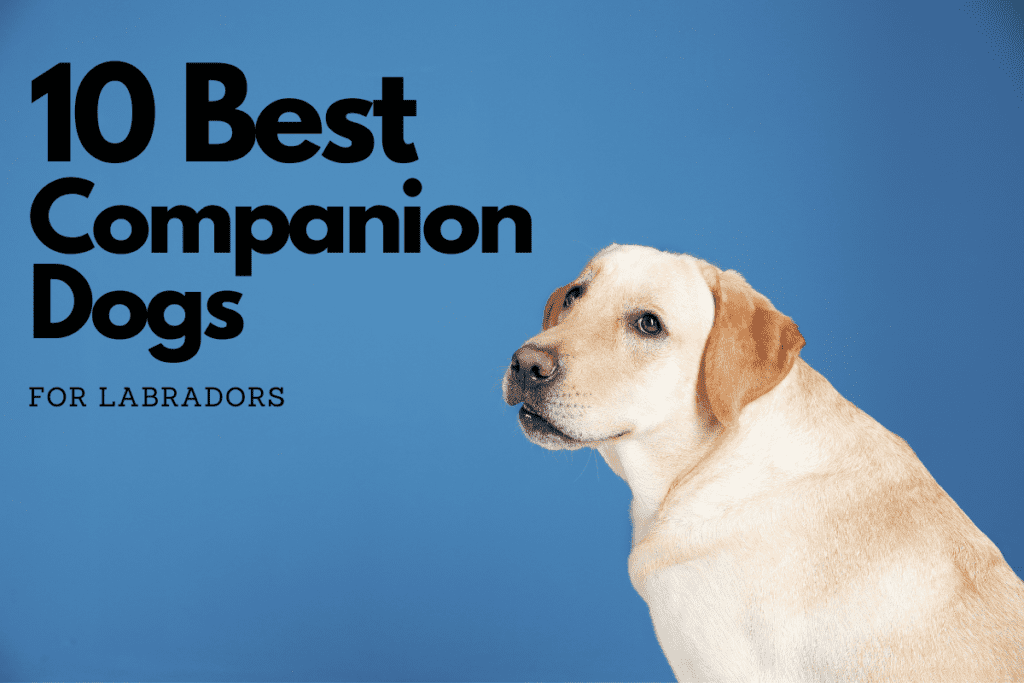 Important Considerations When Getting A Second Dog
Before getting a second dog, it is essential to consider whether you have the space, time, and financial resources to care for another dog. If the answer to all these questions is yes, the next step is figuring out which dog to get.
(Source: VCA Hospitals)
Empowering Owners To Choose The Best Companion Dog
If you read 10 blogs, you will get 10 different answers on which dog breed best suits a Labrador.
The variability in the suggested breeds is the product of an industry secret; there is no definitive guide to the best companion for a Labrador!
Every person, Labrador, and family dynamic is unique; thus, the perfect dog for one family may be less than ideal for another family.
Instead of compiling a random list of suggestions, I have broken the article into five sections focusing on specific attributes of the home environment and resident Labrador.
Each section has two suggested dog breeds, but understanding why these dog breeds were recommended will empower you to make independent decisions regarding which dog will fit in with your Labrador and family.
Best Companion Breeds For Old, Frail, Or Sick Labradors
As Labradors grow older, their approach to life changes. Instead of being wild hooligans and menaces to fragile house décor, they now approach life with a gentle air of dignity.
It is common for older Labradors to become arthritic and frail. Senior Labradors are often reluctant to play and may struggle with mobility.
The chronic pain and fragility will often cause a good-natured Labrador to become irritable and grumpy.
Puppies and high-energy dog breeds have a contagious zest for life that the people may love, but your Labrador finds exhausting.
Your senior Labrador doesn't want to spend their golden years being knocked over, harassed, and intentionally or unintentionally bullied by a new dog.
The ideal dog profile for a senior Labrador's companion is a dog who is:
Naturally gentle and placid
Not inclined to play rough physical games
Low-energy
Not too dominant
It is much easier to find an older dog that embodies this description, but puppies of sedentary dog breeds may also fit the bill.
1. Cavalier King Charles Spaniel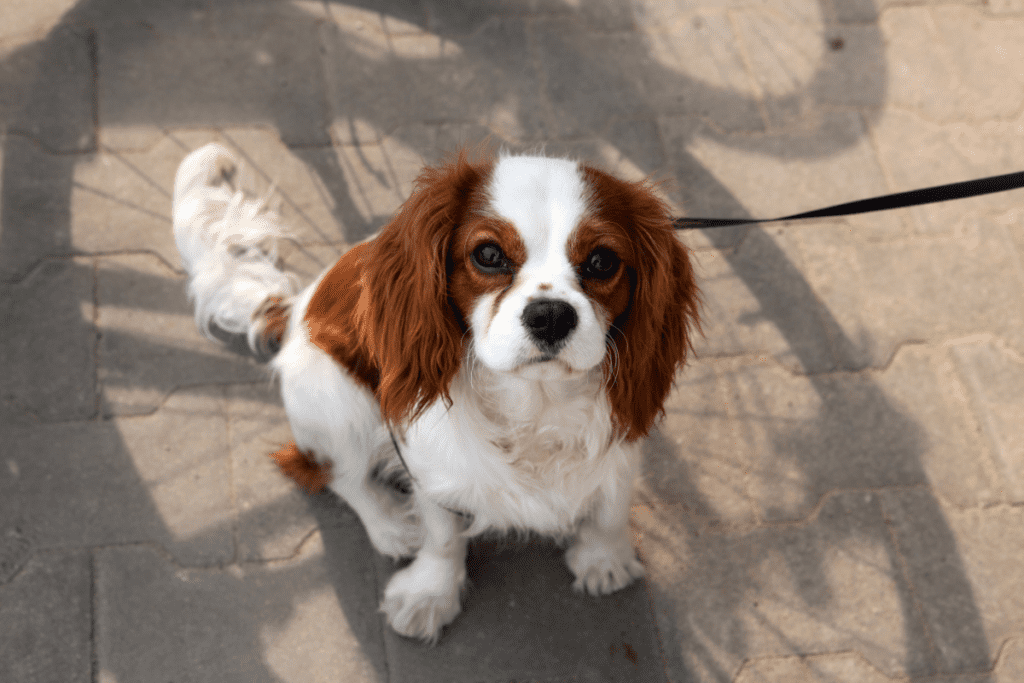 Cavalier King Charles Spaniels don't let their "royal" moniker stop them from having fun.
Young Cavalier King Charles Spaniels were originally bred as companion dogs, and their affection extends beyond their humans to include the other animals in the household.
These gorgeously mellow dogs are notoriously laid back and gentle; they rarely get embroiled in dog politics, preferring to spend their time snoozing or participating in a non-physical game.
As a relatively small dog, standing between 12 – 13 inches at the shoulder and weighing 13-18 pounds, neither adults nor puppies will overwhelm your senior Labrador.
Cavalier King Charles Spaniels struggle with many hereditary and congenital conditions. Thus, it is essential to buy a Cavalier King Charles Spaniel from a breeder who conducts rigorous testing on her breeding dogs.
2. Greyhound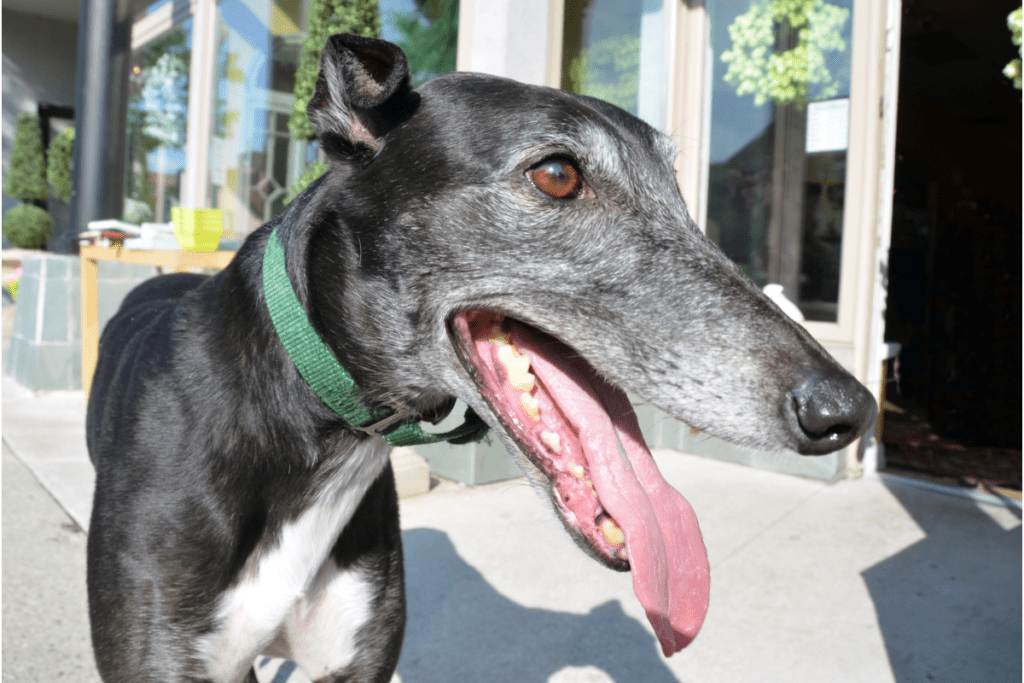 Greyhounds are significantly taller than the tiny Cavalier King Charles Spaniel, but they are equally well-suited to being a senior Labrador's companion.
Initially bred as sighthounds, the Greyhound may be triggered by cats, toddlers, and small dogs. However, your senior Labrador is just the right size for a Greyhound friend.
Despite their illustrious career as extreme sports dogs, most Greyhounds prefer to spend their days lazing around on comfortable beds.
Greyhounds almost always feature on a blog list for apartment dogs due to their minimal energy requirements.
A Greyhound won't exhaust your senior Labrador with unrelenting demands to play.
Many retired racing Greyhounds are looking for homes. Adopting one of these retirees is often better than buying a puppy; your old Labrador may not have the energy to keep up with a puppy.
(Source: Hills Pet; VCA Hospital)
Best Companion Breeds For Young, Exuberant Labradors
Juvenile Labradors are the life of the party, and their high-energy antics often leave their owners looking and feeling frazzled.
Many desperate owners seek a friend for their chaos-inducing Labrador, with the hope that their Labrador will calm down if they have a doggy friend.
Young Labradors are not always the best companions for small breed dogs. Most Labradors love rough, physical play, but when you're the size of a table, and your tiny friend is the size of a teacup, injuries are bound to occur.
Nervous dogs are usually overwhelmed by the chaotic energy that swirls like a tornado around juvenile Labradors.
The ideal dog profile for a juvenile Labrador's companion is a dog who is:
A similar size to the Labrador, e.g., a Yorkshire terrier is too small
The same or slightly lower energy than your Labrador
Is tolerant of silly puppy antics and willing to play rough and tumble games
Easy to train, i.e., having two rambunctious dogs in the house necessitates the need for extensive training
3. English Springer Spaniel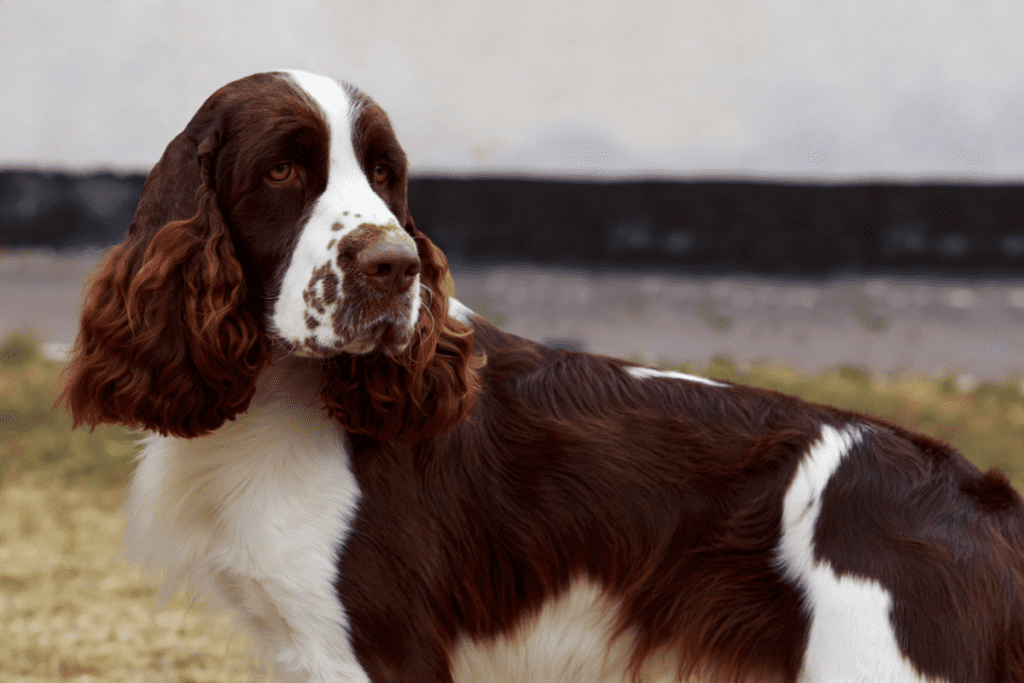 The English Springer Spaniel is undoubtedly a handsome dog who attracts admiring glances wherever he goes. Besides their gorgeous good looks, English Springer Spaniels are moderately high-energy, easily trained dogs that fit in well with exuberant young Labradors.
As the tallest spaniel breeds, the English Springer Spaniel is unlikely to be seriously hurt when roughhousing with his Labrador friend.
If playing together is not enough to tire the two dogs out, you could use these sport-bred dogs as hunting dogs. The mental and physical challenge of fieldwork is the best way to constructively use the dogs' excess energy.
Puppies and juvenile English Springer Spaniels fit better with young Labradors.
(Source: Hills Pet; VCA Hospital)
4. Groenendael Belgian Shepherd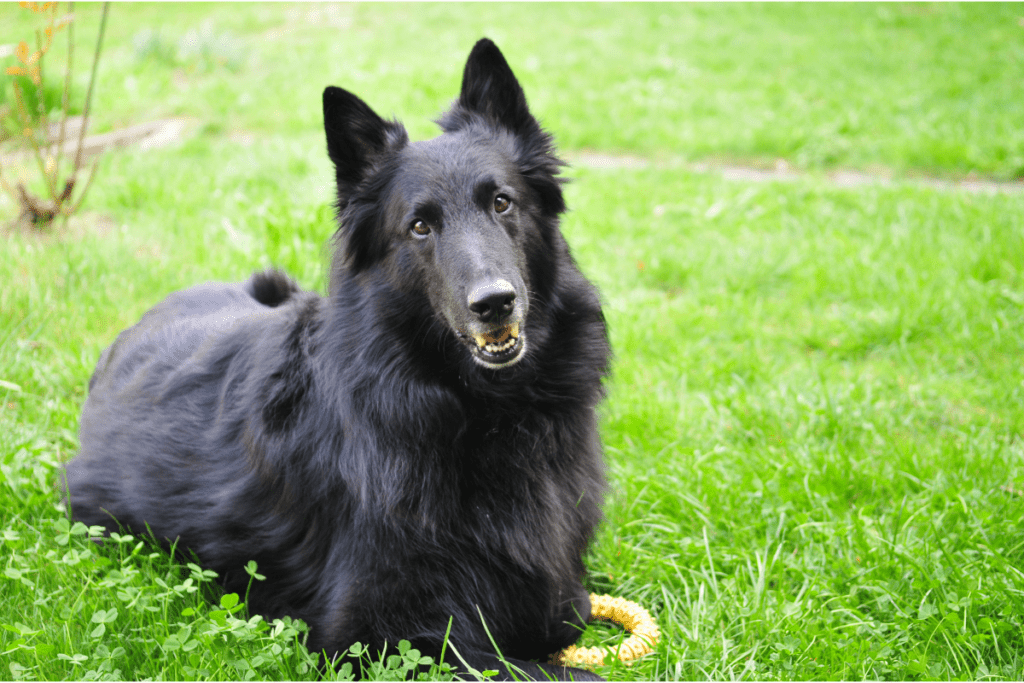 The Groenendael Belgian Shepherd belongs to one of the four subdivisions within the Belgian Shepherd breed.
The other three Belgian Shepherds are the Laekenois, Malinois, and Tervuren.
These dogs are highly-intelligent, proud, gentle canines who have proven their athleticism and intelligence in various jobs, ranging from therapy animals to personal protection dogs.
The Groenendael Belgian Shepherd is a high-energy dog who thrives on mental challenges. These workaholic dogs have more than enough energy to keep up with a young Labrador.
Groenendael Belgian Shepherds can be somewhat dominant, making them an unsuitable companion for an anxious or overly submissive Labrador. However, they are perfect companions for highly exuberant, confident Labradors.
Best Companion Breeds For Submissive Or Anxious Labradors
Labradors are typically recognized as confident, laid-back dogs, uninterested in engaging in dog politics. Some Labradors missed the memo on confidence and instead are overly anxious and submissive.
Anxious and submissive Labradors present an easy target for in-house bullying by a more dominant dog.
The constant bullying will cause submissive dogs to become stressed and anxious, while dogs with pre-existing anxiety will worsen.
The ideal dog profile for a submissive or anxious Labrador's companion is a dog who is:
Well-balanced
Is relatively gentle and prefers to avoid rough games
Their energy levels and dominance/assertiveness should be within the same range of your existing Labrador's energy levels and confidence
No dog aggression
5. Irish Setter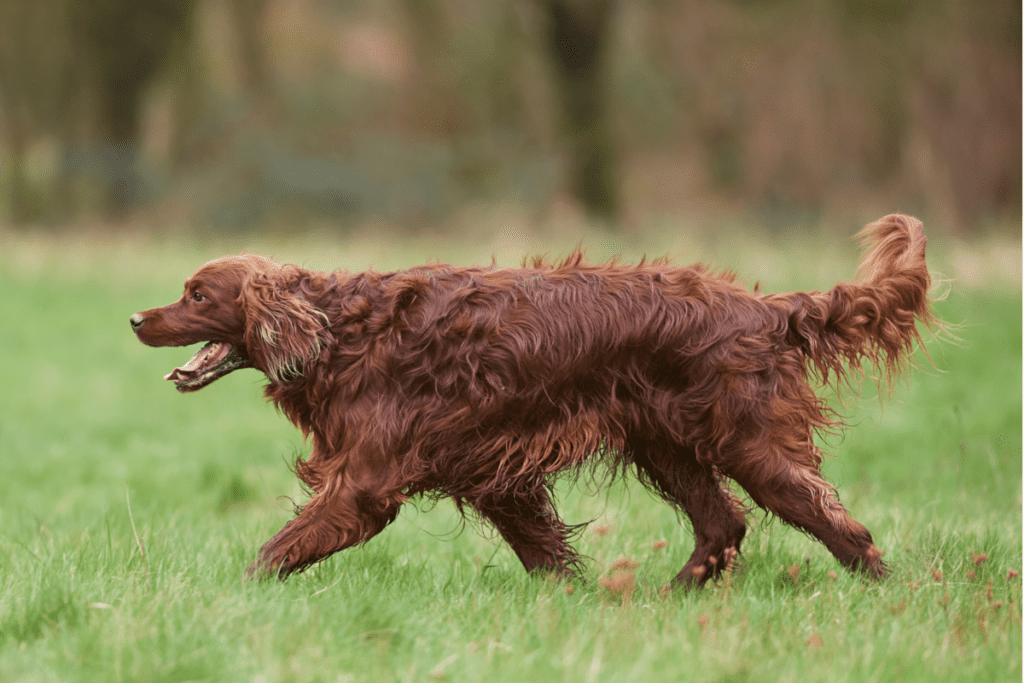 Irish Setters are one of the most elegant, eye-catching redheads you will ever see; their gorgeous burnt amber coloring and flowing locks make them head-turning stunners!
Like the Labrador, these energetic dogs are sporting dogs with a similar soft attitude towards other animals.
An untrained Irish Setter may be tempted to chase the family cat, but they can easily be trained to ignore the cat.
The Irish Setter's gentle, non-dominant, but still energetic nature makes them an ideal companion for anxious, submissive Labradors.
Submissive Labradors still have the desire to play but maybe too scared to participate. The Irish Setter is the "nice kid" that teachers send out to play with the loners (i.e., anxious Labradors).
(Source: PetMD; Hills Pet)
6. Bernese Mountain Dog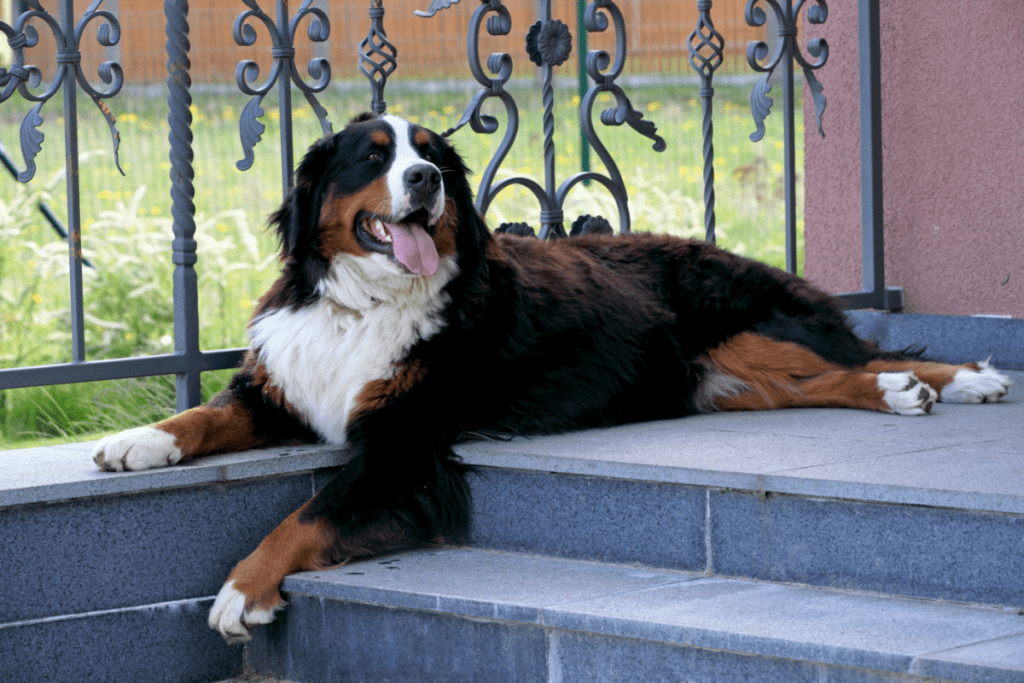 The Bernese Mountain Dog is irresistible; every Bernese Mountain Dog owner I have known can't stop raving about how wonderful and lovable their dogs are.
Bred to be a small draft animal and herder, the Bernese Mountain Dog has is known for its laid-back, easy-going approach to life.
Bernese Mountain Dogs are gentle, cuddly dogs with low to moderate energy levels.
These dogs are not always the most playful canines and can easily fit in with an anxious or submissive middle-aged or senior Labrador.
Their relaxed approach to life will help an anxious Labrador build its confidence.
(Sources: VCA Hospital)
Best Companion Breeds For Multi-Animal Households
Dog lovers tend to fall under the umbrella of "animal lover," and it is not uncommon to find a variety of animals living in the home.
Hostile relations between different household animals disrupt the home's peace. These encounters can make you feel like a lone UN ambassador trying to negotiate peace between two warring nations!
It is impractical to base the entirety of a decision-making process on your Labrador's needs, quirks, and wants.
It is just as important to consider the family dynamic and the individual needs of different family members; humans and pets.
The ideal dog profile for a Labrador's companion living in a multi-pet household is a dog who is:
Low hunt drive, preferably with a soft mouth
Known to be gentle and sociable
Bred to live with other animal species
Easy to train, i.e., most dogs need to be taught not to chase the cat, eat the bird, or fantasize about an upcoming hamster hunt.
7. Golden Retriever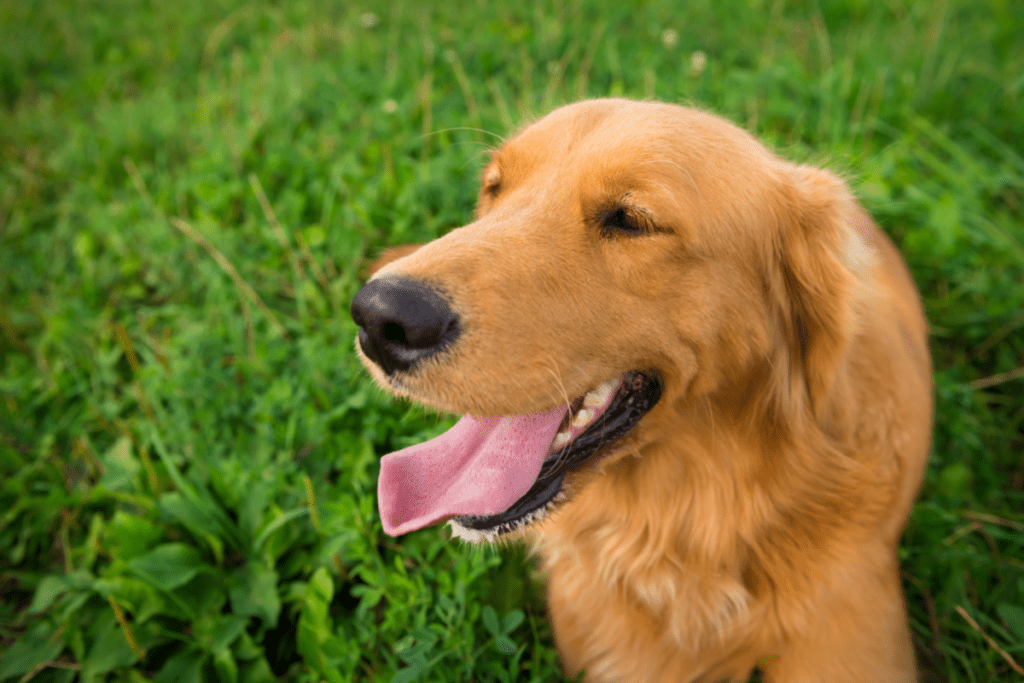 A Golden Retriever is one of the favorite dog breeds to pair with Labradors. These dogs match a Labrador in almost every area except for field trials.
Both dogs have a similar range of dominance (i.e., low to moderate), energy levels, and friendliness.
The Golden Retriever may be inclined to chase your cat or bird. However, their extreme intelligence and determination to please their people make the Golden Retriever a dream to work with.
These dogs quickly learn that the birds and cats can't feature in their wild games.
It's crucial when choosing a Golden Retriever to be your Labrador's companion that they match your Labrador in specific categories:
Assertiveness vs. shyness
Energy levels
Style of play
Preferably a similar age
(Source: VCA Hospital; Hills Pet)
8. Great Pyrenees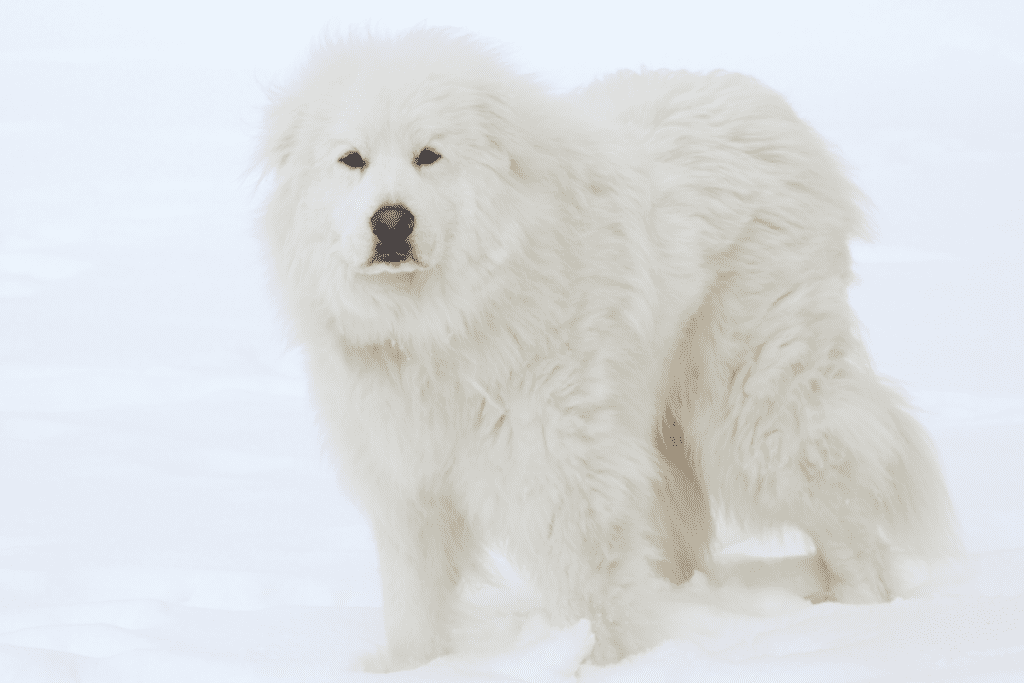 Great Pyrenees were initially bred to be livestock guardians and continue to perform this duty worldwide.
They are commonly used to guard sheep and occasionally cows; the Great Pyrenees will bond with and protect any animal it has grown up with.
Great Pyrenees are not your typical pet; they're working dogs that take their jobs seriously.
According to the threat posed, these dogs graduate their aggression level; they will first bark, then growl, and finally attack as the threat level escalates.
The nightly patrols a Great Pyrenees goes on are accompanied, but lots of barking; people living in suburban areas may want to stay away from a Great Pyrenees.
Livestock guardians have been bred to be independent thinkers and do not excel in obedience classes. However, they will fiercely defend and even lay down their life for "their" family or livestock.
These dogs are not the most lighthearted companions and do better with middle-aged Labradors living in multi-pet households.
Best Functional Companion Breeds For Labradors
Although, Labradors have essentially taken out a copyright for the formula of "Best Family Dog," there are some jobs they are ill-suited to perform. These include but are not limited to:
Territorial protection
Personal protection
Herding
While you love and adore your Labrador, you may have decided your Labrador's companion needs to fulfill two tasks:
Friend to your resident Labrador
Fulfill a function independent of the friendship duties, e.g., personal protection
The ideal dog profile for a Labrador's companion, serving a dual purpose is a dog who is:
Bred for the job you want them to do and comes from a reputable breeder using working lines
Has similar energy levels to your existing Labrador
Not too dominant
Not dog-aggressive
9. Mastiff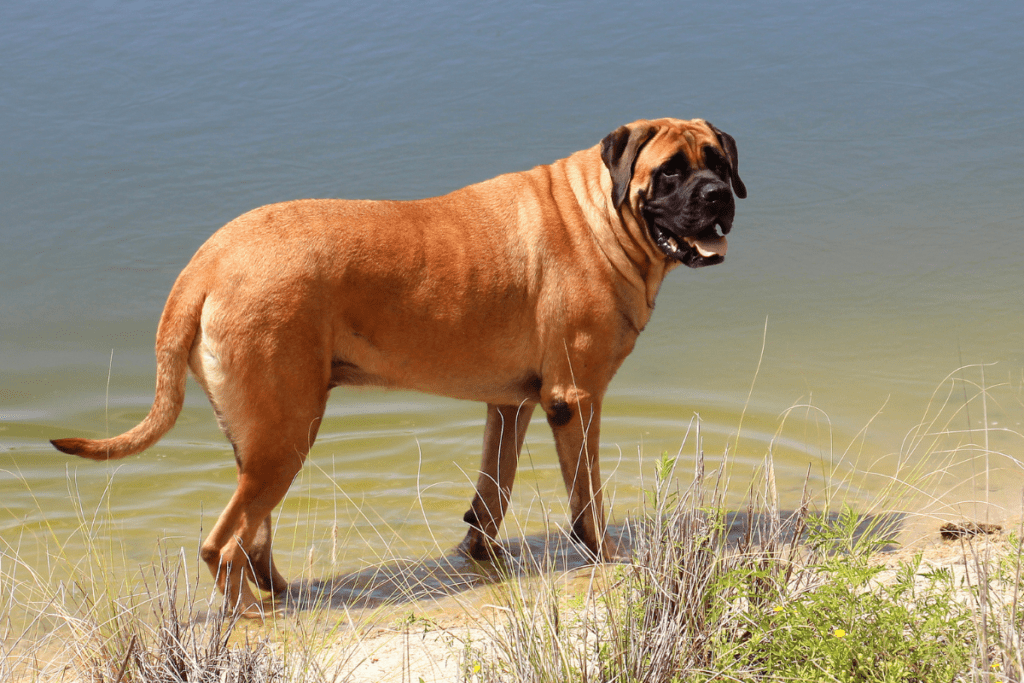 Mastiffs, also known as English Mastiffs, are massive dogs bred to be territorial guardians; they will fiercely defend their home and owners when needed. The "off-duty" Mastiff prefers to spend his days lazing around and living the life of a couch potato.
Mastiffs can be dominant and so should not be paired with anxious dogs. However, Mastiff's with a moderate level of assertiveness can be a good fit with a submissive Labrador.
Their laid-back, lazy approach to life makes the Mastiff better suited as a middle-aged or senior Labrador's companion.
(Source: Hills Pet)
10. German Shepherd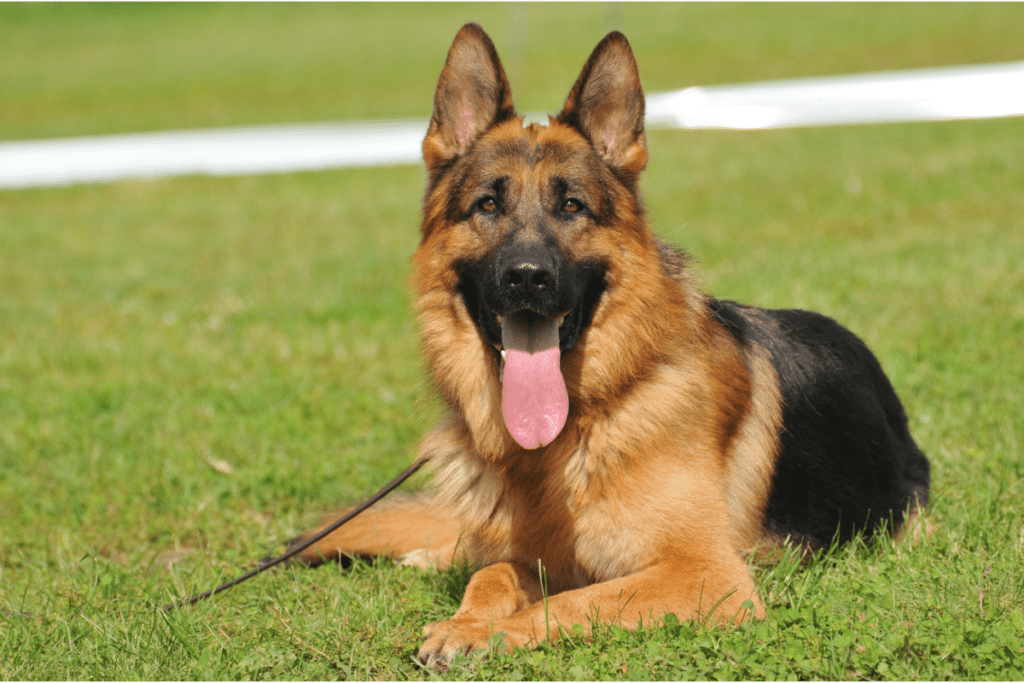 The German Shepherd is famous for its role as a "police dog," and many people still refer to the German Shepherd as a police dog. The German Shepherd excels in personal protection work and will viciously defend their owners if forced to.
German shepherds have similar energy levels to Labradors but are significantly more dominant than the go-with-the-flow Labrador. As such, the German Shepherd cannot be paired with an anxious, submissive, or frail dog.
The age of the two dogs is an important consideration when pairing a German Shepherd with a Labrador. Ideally, the two dogs should be the same age or have less than a year's difference between their ages.
Young German Shepherds mix well with young Labradors, while middle-aged German Shepherds happily pair off with middle-aged Labradors.
Final Thoughts
As a breed, Labradors are easy dogs to pair with other dogs; however, a definitive list of ideal Labrador companions cannot be generated as there are too many variables to account for.
It is essential to choose a Labrador companion by considering your Labrador's individuality, family dynamic, and other pets in the house.